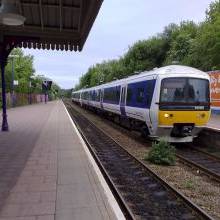 Millions of commuters could see train fares rise by 5.8% from the new year.
Those with season tickets and many long-distance travellers will be hit by the potential rise which follows today's publication of July's Retail Prices Index (RPI) inflation measure, which was down from 5% in June to 4.8% (see the Cheap Train Tickets guide).
'Regulated' train fares (those listed above) are set every January based on the previous July's RPI figure plus one percentage point.
It means a season ticket that today costs £1,000 could rise in price by £58.
However, the Department for Transport stresses the formula for setting regulated fares could change this October when the Government publishes its spending review.
Other train fares could also rise in January but these are not based on inflation.
The Consumer Prices Index inflation measure, which unlike RPI does not include housing costs, was down from 3.2% in June to 3.1% in July. This is still well above the Government's 2% target.
The current combination of high inflation and record low interest rates has left savers struggling to make a real return on their money once tax and inflation are taken into account (see the Top Savings, Cash Isas and Isa Transfers guides).
Slash train costs
There are many ways to cut the price you pay for train travel (full details in the Cheap Train Tickets guide).
Archna Luthra, MoneysavingExpert.com consumer products analyst, says: "Buying early can get you cheaper fares as you can buy two singles instead of a return, in some cases, which can slash costs.
"For longer journeys, try the sneaky trick of split ticketing. Here, buy your single journey in two parts; for example, London to Penzance is often cheaper if you buy London to Plymouth, and another to ticket from Plymouth to Penzance."
Further reading/Key links
Slash costs: Cheap Train fares, Cheap UK travel