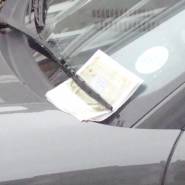 Some councils in England and Wales want to hammer motorists with a 70% rise in parking fines, it is claimed.
Many local authorities outside London are lobbying to hike the maximum cost of a standard ticket from £70 to £120 (see the Parking Ticket Appeals guide).
The cap in London is already £120, though, as with most parking tickets, it is halved if paid early.
The British Parking Association also wants a rise, according to the report by the BBC, saying current levels are not a sufficient deterrent.
Transport Minister Norman Baker told the BBC: "I think motorists will worry that this is perhaps a covert attempt to raise money from them unfairly. That's not the Department for Transport's objective in any shape or form.
"What we are doing is looking very objectively and very fairly at the evidence presented to us."
Unfair parking tickets are a constant menace for drivers (see the Bogus photo used to trap motorist MSE News story).
However, those unjustly hit have a good chance of overturning the penalty.
While you must first complain to the council that issued the ticket, which will most likely reject the complaint, around 70% who take their case to the independent parking tribunal win.
Meanwhile, private parking firms are also responsible for hammering motorists with exorbitant and unjust fees, which are often unenforceable.
As a result, the Government plans to ban wheel clamping on private land next year in a bid to tackle rogue operators.
Home Office minister Lynne Featherstone said in the summer that previous efforts to curb activities of unscrupulous clampers had failed and England and Wales would now follow Scotland, which introduced a ban nearly two decades ago.
Further reading/Key links
Dispute parking tickets: Parking Appeals (public land), Private Parking
Cut motoring costs: Cheap Petrol & Diesel