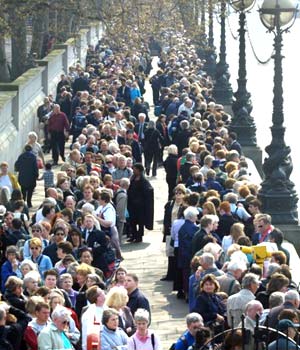 The Government has opted against setting up a state-backed Post Office Bank because it would be too time-consuming and expensive, ministers have announced.
The news came as the Government promised an "exciting new era" for the Post Office when it pressed ahead with controversial plans to privatise parts of the Royal Mail, pledging to invest in the network, refurbish branches, extend opening hours and cut queues.
Ministers said they were keen for banking to be extended at the Post Office, but they announced they had decided against the bank proposal, saying now was "not the right time" to create a new state-backed Post Office Bank.
"Setting up and capitalising a new bank would be time-consuming and extremely expensive. At a time when the public finances are under huge strain ... funding is better spent modernising and maintaining the network," said the Business Department.
Unions, small businesses and pensioner groups have been campaigning for years for a Post Office Bank to be set up as a way of supporting the branch network, while the Government's decision was described as "desperately disappointing" by the Communication Workers Union.
Meanwhile, postal affairs minister Ed Davey has announced an agreement between Post Office Ltd and Royal Bank of Scotland (RBS) which will give RBS and NatWest customers access to their current and business accounts through the Post Office.
Long term focus
Mr Davey said: "Our long-term goal is to convert the Post Office into a mutual structure, for example like the Co-operative Group, giving employees, sub postmasters and communities a much greater say in how the company is run. Our programme means the network is on the cusp of an exciting new era.
"We're determined to turn the Post Office network around and end the years of decline. The Post Office is a tremendous national asset. It will not be for sale and there will be no programme of closures.
"To underline our commitment we have announced £1.34 billion of funding over the next four years. The money will put the Post Office on a stable financial footing. It will help modernise the network and make it even more appealing to customers."
Paula Vennells, managing director of Post Office Ltd, added: "We warmly welcome the Government's significant level of support and commitment, which will allow us to invest in the network and in our service to customers, and help us develop new business."
Further reading/Key links
Cut debt costs: Best Bank Accounts, Top Savings Accounst, Basic Bank Accounts, Bank Charges Reclaiming
Get debt help: Debt Problems