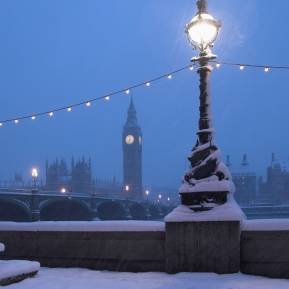 The freezing temperatures across the UK have triggered the first cold weather payments this winter.
Millions of vulnerable households will receive £25 each over the coming days to help cover the cost of heating their homes during the cold snap (see the Benefits Check-Up guide).
Below, we round up how the benefit works.
Also see Travel refund rights news for more on the Big Freeze.
What are cold weather payments?
They are payments for those in receipt of certain benefits to help with heating costs during winter.
They are made if the average temperature where you live is recorded as, or is forecast to be, zero degrees celsius or below over seven consecutive days between November and March.
How much do you get?
£25 per qualifying week. When you consider price comparison site uSwitch.com estimates a 'cold weather' week costs a typical household on a prepayment meter an additional £7 per week and a household on a cheaper online tariff £3 more, the benefit is good value.
Who qualifies?
Around four million people are potentially eligible, more than two million of whom are pensioners who receive the pension credit.
Those in receipt of income support, income-based jobseeker's allowance or income-related employment and support allowance may also be eligible if it's cold enough.
However, there are some exclusions so check the Direct.Gov site for full details.
How do I find out if it's cold enough?
You can use the cold weather postcode search to check if your area is officially cold enough to get a payment.
Some parts of northern Scotland and Wales have already had two weeks of average temperatures below zero.
How am I paid?
If eligible, you'll be paid it automatically.
Payments usually go into the same bank or building society account as your benefits. After each period of freezing weather in your area, you should receive a payment within 14 working days.
What if payment doesn't arrive?
Tell your pension centre or Jobcentre Plus if you think you should have received a cold weather payment but have not had one.
How do they differ from winter fuel payments?
Winter fuel payments are different. They are made every winter to those over 60, regardless of the temperature, and total between £125 and £400 each. See the Winter Fuel MSE News story for full details.
Do cold weather payments count as income for other benefits?
No. There is no effect at all.
Further reading/Key links
Boost income: Benefits Check-up, State Pension Boosting, Top Savings
Slash energy costs: Cheap Gas & Electricity, Is Your Cap/Fix Ending?
Boiler protection: Boiler Cover