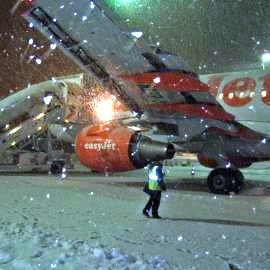 The bitter winter temperatures this week have caused havoc with the UK's transport system.
Airports have closed leaving tens of thousands of passengers stranded, train services have been cancelled or delayed and many roads have been grid-locked.
As a result, many commuters and holidaymakers have shelled out for services that they've not got or that have been significantly delayed.
Below, we round up your refund rights if you have been hit by the big freeze.
Also see Cold weather payments news for more on your rights.
If my flight is cancelled/delayed
Your rights depend on the type of trip booked.
Package holidays
You will either be offered alternative transport (whether you're abroad or still in the UK) or an alternative holiday. If still in the UK and the alternative holiday is unsuitable, you'll be refunded all elements of your package (see the Cheap Package Holidays guide).
How to claim/get assistance. If in the UK, contact your tour operator or travel agent. If overseas, contact your travel agent or rep.
DIY holidays
If your flight is from an EU airport or if on an EU carrier, under European regulations, the following applies:
If your flight is cancelled or delayed by over five hours. Airlines must offer you a full refund within seven days of any unused ticket or, if the flight is cancelled, allow you to rebook. If you cannot get to your destination, you'll also get the return leg refunded.

If you booked your outward and return legs separately, and your return flight goes ahead, but you were unable to reach your destination, it's more complicated. You should get a refund for the return trip as long as both flights are booked with the same carrier, but you're at the mercy of your airline. You may not get a refund if booked with different airlines.


If taking a connecting flight. If you've already made part of your journey, and the next leg is cancelled, you are entitled to your money back within seven days for any unused flights and a free flight back to your departure point.


How to claim a refund/rebook. Contact your airline. Many airline websites clearly explain the refund or rebooking process. If unsure, call.
Will I get costs reimbursed while I wait for my flight?
You are entitled to meals and overnight accommodation for long delays.You are also entitled to transport between the airport and your hotel plus up to two phone calls.

How to claim. If your airline provides these for you, there is nothing to claim. If not, keep receipts and claim in writing from your carrier when home.
Some airlines, especially Air France, BMI Baby and KLM have been slow in offering refunds or have failed to offer anything during past periods of disruption. If you're treated unfairly you can complain to the Air Transport Users Council, which can often help.
Will I get extra compensation from the airline?
If the airline is not at fault, as it is unlikely to be during the bad weather, it only has to refund your ticket and cover any expenses, and no additional compensation.
What about hotels and car hire?
You may have paid for other parts of your holiday in advance as well as flights or a package. These may include accommodation, car hire or other activities (see the Cheap Hotels and Cheap Car Hire guides).
Many of these may be refundable so contact the service provider to check. If you can't get your money back, see the insurance section below.
If my train is cancelled/delayed
The rules on train disruption in the UK are less regimented and depend largely on the train firm you have booked with.
The Association of Train Operating Companies says: "Train companies will consider compensation for passengers whose journeys have been cancelled or delayed due to bad weather. It is essential for passengers to check with their train company.
"In terms of delayed trains, as a minimum, if your service was delayed by an hour of more, you should be entitled to some level of compensation. Contact the train company you were travelling with.
"Some train companies will consider delays of less than an hour, so it is important to check with the operator.
"The above applies for all advance, off-peak and anytime tickets, but not season tickets. For season ticket holders, operators may consider a refund depending on circumstances; contact them directly to check."
If my coach is cancelled/delayed
As with trains, check with your operator as rules may vary.
As an example, Stagecoach offers a full refund or a rebooking if your coach is cancelled. If delayed, its terms and conditions say no compensation will be given but it will consider claims on a "case by case basis for severe delays".
If my London transport journey is cancelled/delayed
Transport for London says it does not offer any refunds for tube, bus, DLR or overground services affected by the weather.
However, the website MyTubeWasLate.com says it's worth trying for Underground problems as not all delays will have been caused by the weather. You can only get a refund if the tube was 15 minutes or more late, if you claim within two weeks.
Founder Connor Kinnear says: "We have asked TfL for their view on this in the past, and they also advised us, if in any doubt, to make the claim."
It is often easier to use free websites such as MyTubeWasLate.com rather than TfL's official complaints procedure.
Will my insurance or card firm pay out?
Travel insurance
Travel insurance may pay out if your tour operator, airline or other service provider will not (see the Travel Insurance guide).
As ever with insurance, there is never a simple answer to whether or not a policy will pay out as it depends on the circumstances and the insurer. When buying cover, if you want comprehensive protection, the cheapest option may not be the best.
What is crucial is that you get insurance when you book your holiday. As it only covers unknown events, you won't get a payout for disruption if you buy cover or your travel after you knew of that problem.
Card company refunds
If you paid for your trip on a credit card or Visa card, the plastic provider may offer you a refund but only for the part(s) of your trip funded by that card, if you didn't receive that service.
Credit card payments. If you paid over £100 per person, per component of the holiday, under Section 75 of the Consumer Credit Act, credit card firms are jointly liable with retailers if something goes wrong (see the Section 75 Refunds guide).


Visa payments. The card issuer operates a chargeback scheme, where it gets your cash back from the retailer's bank if something goes wrong, regardless of the amount spent. This is not a legal requirement, but a customer service promise.

You must notify your card company within 120 days (see the Visa Chargeback guide).
Further reading / Key links
Make them play fair: Consumer Rights, Section 75 Refunds
Travel for less: Cheap Flights, Budget Airline Fee-Fighting, Cheap Trains, Cheap Hotels, Travel Insurance