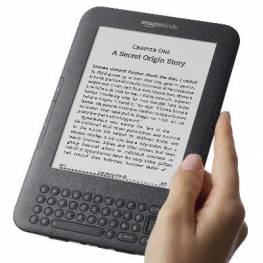 Internet giant Amazon is calling for a drop in the cost of electronic books (ebooks).
Some books that can be read on gadgets such as Amazon's Kindle or Apple's iPad cost more than hard copies even though it is claimed production costs are lower given there is no printing or shipping required.
Publishers have been partly blamed in some corners for artificially pumping up prices in a market which has exploded over recent months (see the Cheap Online Shopping and MegaShopBot guides).
The price of ebooks is also high because VAT in the UK is charged at 20% compared to 0% for paper books.
The Office of Fair Trading (OFT) has opened an investigation into whether "arrangements between publishers and retailers breach competition" rules, following "a number of complaints".
An Amazon spokesman told MoneySavingExpert.com: "We believe ebooks should be less expensive than physical editions and are working hard to ensure that is the case."
Amazon, whose Kindle was its biggest seller in 2010, adds in a post on its forum: "Publishers set the consumer price for each ebook and require any bookseller to sell at that price.
"This is unlike the traditional wholesale model that's been in place for decades, where booksellers set consumer prices.

"We believe they [some publishers] will raise prices on ebooks for consumers across the board. For many reasons, we think this is a damaging approach for readers, authors, booksellers and publishers."
More expensive

Many ebooks currently cost the same or more than their paper counterpart. Best seller The Brightest Star in the Sky by Marian Keyes costs £5 for the paperback version and £5.99 for the Kindle on Amazon.
However, publishers claim there is a substantial cost associated with the production of ebooks.
A spokeswoman from the Publishers Association, a trade body for publishers, says: "Overall costs of producing ebooks are very similar to the cost of producing paper books, there's just an assumption ebooks are cheap.
"This would include costs for encoding, formatting, rights management, software management and secure archiving."
The OFT refuses to go into detail about its investigation, which could take over a year. A spokeswoman says: "The investigation is at an early stage and it should not be assumed the parties involved have breached competition law."
The 1998 Competition Act "prohibits agreements, practices and conduct that may have a damaging effect on competition in the UK".
ebooks are subject to VAT at 20% as they are defined by HM Revenue and Customers (HMRC) as "the supply of text by electronic transmission" and "such supplies are of services, not of goods".
HMRC says it has no plans to cut VAT on ebooks but the Publishers Association is hoping VAT will fall to 5%, which should lower the costs for consumers.
Further reading/Key links
Cut costs: High Street Haggling, MegaShopBot, Cheap Online Shopping, Restaurant & Shopping deals, Top Cashback Sites