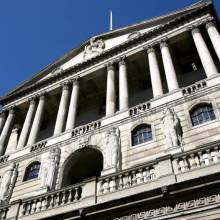 The Bank of England edged closer to lifting interest rates earlier this month, it was revealed today.
Minutes of its Monetary Policy Committee's monthly meeting show the number of policymakers who voted in favour of a hike increased again.
A rate rise would push savings returns up but bring misery for mortgage holders, as those on variable rate deals will see costs jump.
Spencer Dale joined fellow monetary policy committee members Andrew Sentance and Martin Weale in voting to lift the base rate from its historic low of 0.5%.
Details of the meeting suggest the nine-strong committee is becoming increasingly divided after the inflation rate soared to 4% in January.
The minutes, published a week after Bank governor Mervyn King played down the prospect of lifting rates, revealed some members who voted for no change in policy thought the case for a rate hike had "grown in strength".
February's minutes showed Sentance, who has voted in favour of a hike since the summer, now wants to see rates at 1%, higher than his previous vote for an increase to 0.75%.
Weale, who voted for a hike for the first time in January's meeting, and Dale want rates to increase to 0.75%.
The minutes reveal the three hawks found the inflation threat, driven by rising global commodity prices, outweighed risks associated with the uncertainty surrounding the strength of the recovery.
The headline Retail Prices Index inflation rate rose from 4.8% in December to 5.1% in January, while the Consumer Prices Index (CPI), which does not include housing costs, rose to 4% last month, from 3.7% in December. The Government's CPI target is 2%.
Economic theory says that raising interest rate keeps inflation down.
However, the majority who passed the 'no change' outcome decided there is merit in waiting to see how the economy performs at the start of the year, to help assess whether the 0.5% decline in GDP output in the fourth quarter of 2010 was a one-off.
Further reading/Key links
Best rates: Top Savings, Top Fixed Savings
Mortgage cost-cutting guides: The Remortgage Guide, First-time Mortgage Guide, Cheap Mortgage Finding, Ditch My Fix?
Get help: Mortgage Arrears, Redundancy Help