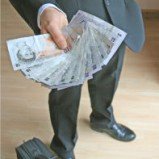 Equitable Life today announced plans to hand back hundreds of millions of pounds to its beleaguered policyholders who have seen the value of their investments dive.
The mutual is set to increase the value of members' with-profits policies by 12.5% for those whose investments mature or who leave the society after 1 April this year.
It expects to hand over £40 million in additional payments to about 30,000 policyholders during the first year.
Overall, 400,000 policyholders are expected to benefit from the move, which the society expects to cost "hundreds of millions of pounds".
Equitable was brought to its knees in 2000 when it lost a legal battle in the House of Lords over the rights of policyholders, forcing it to close to new business.
'Major step'
It describes the scheme as the "first major step towards the distribution of capital" to its remaining members.
It says it is able to make the payments after successfully rebuilding the society's capital position following a decade of uncertainty.
The majority of the group's assets are now invested in either fixed interest products, or are held in cash, giving it a higher degree of certainty about the returns it will earn than if the money was held in more volatile equities.
This has enabled it to use some of its excess capital to make the payments.
Chris Wiscarson, Equitable chief executive, says: "We've done a lot of talking about what we'd like to do to recreate policyholder value.
"Today we're actually doing what we said we were going to do. May this be the start of a better future for our policyholders."
Additional redress
The payments being made by Equitable will be on top of £1.5 billion of compensation that policyholders are set to receive from the Government.
Around 945,000 current and former policyholders will receive redress equal to 22.4% of the relative amount they lost due to the problems at the society, compared with if they had invested their money with another life insurer.
A further 37,000 with-profits annuitants, who are trapped at the society, will be compensated for their losses in full, with the money paid in regular instalments for the rest of their lives.
The Parliamentary Ombudsman called for policyholders to be paid compensation after finding 10 instances of maladministration by regulators and Whitehall officials in relation to Equitable in the period leading up to December 2001.
It is estimated policyholders at Equitable Life have lost £4.3 billion compared with if they had held their money with another institution.
Further reading/Key links
Boost income: Benefits, State Pension Boosting, Pension Credit
More on pensions: Pensions Guide, Free Printed Annuity Guide