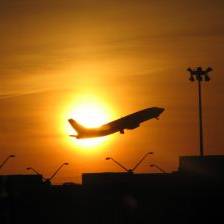 Thousands of holidaymakers face price increases after three major tour operators revealed fuel charge rises on flights.
A family of four will pay up to £160 more for an overseas holiday after travel giants First Choice, Thomas Cook and Thomson announced hikes (see the Cheap Flights guide).
However, there is still time to beat the First Choice and Thomson (both part of the TUI Group) rises, which come into force on Friday. However, the Thomas Cook jump is already in effect.
Thomas Cook
It increased fuel surcharges from £15 to £40 per person for a return flight yesterday. Anyone who booked earlier is unaffected.
Short haul prices are up £15 per return journey (£7.50 per flight), medium haul (flights of 3-7 hours) is up £25 (£12.50 per flight) and long haul is up £40 (£20 per flight).
The charges apply to all bookings from yesterday on Thomas Cook Airlines flight-only and package tours leaving the UK.
First Choice/Thomson
The pair have confirmed hikes will happen on Friday but they cannot yet confirm the exact rises. Reports suggest they will be similar to the Thomas Cook increases.
They will be applied to all Thomson, First Choice and Thomson Airways packages and flight-only deals.
Why the rises?
The tour operators blame the rising price of oil and the subsequent increase in the cost of jet fuel, which has gone up by more than 40% in the last year.
Last week, Willie Walsh, chief executive of the British Airways/Iberia merged company International Airlines Group, warned of possible fuel surcharge rises across the industry after BA upped fuel costs last month.
Fuel surcharges are included in the overall price of most airline tickets.
Further reading / Key links
Fly for less: Cheap Flights, Budget Airline Fee-Fighting