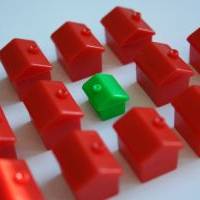 First-time buyers struggling to save a deposit to get on the property ladder can get funding from local authorities under a new scheme driven by Lloyds TSB.
The initiative, called Local Lend a Hand, is aimed at people who can afford monthly repayments where they borrow up to 95% of the property value but do not have the big deposit most lenders demand.
Under the scheme, to launch later this month, local councils step in and provide a security worth up to 20% of the property's value, which is held with Lloyds, enabling the buyer to qualify for a lower mortgage rate.
The individual would still borrow up to 95% of their property's value from the government-backed bank, while they would also own their home outright, unlike a shared ownership scheme (see The Remortgage Guide and First-time Mortgage Guide).
On a typical £150,000 mortgage, here is how the system works:
A borrower must put down at least £7,500 (a 5% deposit).
They get a mortgage for up to £142,500 (95% of the value) from Lloyds
The local authority deposits up to £30,000 (20% of value) into a Lloyds corporate account.
Lloyds pays the council interest on the money for the term of the mortgage.
Lloyds will only take some or all of the council's money if the home is repossessed and sells for less than it was bought for, so the cash covers any shortfall.
The initiative is being piloted by five local authorities in Blackpool, Warrington, Northumberland, Newcastle under Lyme and East Lothian, but there are plans to roll it out to other areas of the UK later this year, though Lloyds is reliant on other councils agreeing to take part.
Lloyds stresses as the interest paid to councils is likely to top 4% and statistics show only 0.3% of homes are repossessed, this comfortably covers the risk of taxpayer money disappearing.
However, if inflation soars, the value of that cash may erode so there could be some loss.
Lloyds has not yet set mortgage rates for the scheme, but it says they are likely to be similar to those offered through its Lend a Hand scheme, where parents fund the extra deposit instead of a council.
Here, someone with a 5% deposit can get a three-year fixed rate mortgage of 5.09% with a £895 fee, compared with a rate of 5.99% from its mainstream range if they had a 10% deposit.
Individual local authorities will be able to decide how much they will make available for the scheme, as well as setting a cap on the amount they will assist individuals with.
Lloyds will lend a maximum £350,000 under the scheme, though many councils will not provide cash to go that high.
Housing minister Grant Shapps says: "I'm delighted to see that those on the front line of building homes and providing mortgages are stepping up their efforts to help aspiring first-time buyers get a foot on the ladder.
"These new and innovative mortgage products are welcome because they are tailored to meet the challenges faced by first-time buyers, and can help get the housing market moving again."
Further reading/Key links
Mortgage cost-cutting guides: The Remortgage Guide, First-time Mortgage Guide, Cheap Mortgage Finding, Ditch My Fix?
Loans: Cheap Loans, Cut Loan Costs, Credit Card Loans