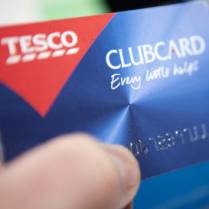 Tesco Clubcard customers can double the value of their reward vouchers to spend on items including furniture, clothes and toys at the supermarket from Monday.
The scheme, branded the Easter Clubcard Voucher Exchange, will run from 4 April to 15 May and will enable customers to exchange and double the value of Clubcard vouchers for Easter Exchange tokens to spend at Tesco.
The offer will be virtually identical to the various double-up schemes available last year, where shoppers only needed to earn half the usual number of points to buy applicable products (see the Loyalty Points Boosting guide).
Importantly, customers can still spend their Clubcard vouchers in the usual way with non-Tesco retailers where they can get up to three times the value, if they don't want to participate in the Easter Exchange.
What vouchers can I double in value?
Only Clubcard vouchers in groups of either £5, £10 or £20 can be exchanged and doubled, though you can combine lower value vouchers to hit the various thresholds.
You can use a higher value Clubcard voucher and any change will be credited back to your Clubcard account.
Say you have a £7 voucher, you can convert £5 of that into a £10 Easter Exchange token with the remaining £2 credited back to your account in points.
You can exchange any unused Clubcard vouchers you've been saving, as long as they are still in date (see the Loyalty Points Checker Tool to value your points).
Where can I make the exchange?
The exchange can be done in-store (excluding Tesco Express) at the signposted desks, where the assistant will exchange them for tokens, which look like a till receipt.
Alternatively, if you plan on spending the vouchers online, the exchange can be done on the Tesco Clubcard website.
What can I use the Rewards tokens on?
Before exchanging, identify the department you want to spend the voucher in as they will then only be valid for that section.
Below are the departments you can spend your vouchers on, though there are restrictions, as detailed.
For the following departments/brands you must exchange a minimum of £5 in Clubcard vouchers into a £10 Easter Exchange token:
Clothing
Garden products, garden furniture and BBQs
Pampers (not other nappies or wipes)
Beauty, suncare and fragrance
In the following departments you must exchange a minimum of £10 in Clubcard vouchers into a £20 Easter Exchange token:
Toys, bikes and camping equipment
Cameras, sat navs and audio
Opticians
Small domestic appliances
Phones and accessories
If you want to spend on furniture you must exchange a minimum of £20 in vouchers into a £40 Easter Exchange token.
There are plenty of exclusions so check online or with staff before exchanging your vouchers.
Can I get change from the Exchange tokens?
No. The cost of the products purchased must equal or exceed the value of the Easter Exchange tokens. This means you can't use a £10 token to buy an £8 item even if you accept you'll lose £2.
Can I buy something worth more than I have in Easter Exchange tokens?
Yes. You can pay the difference yourself.
Is there a deadline?
Clubcard vouchers can only be converted to Easter Exchange tokens until 5 May. Exchange tokens will then be redeemable until 15 May.
Does the Clubcard scheme change otherwise?
Earning points. The revamp does not affect the way you collect points, where you usually earn two points per £1 spent at Tesco, even on purchases made using Easter Exchange tokens.
Spending points. You'll still be able to triple the value of Clubcard points that can be used at certain non-Tesco retailers.
Further reading/Key links
Slash shopping costs: Loyalty Points Boosting