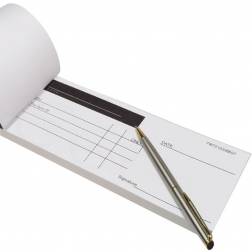 Banks stand accused of ignoring the needs of millions of vulnerable people by pressing ahead with plans to phase out cheques.
The Treasury Select Committee says it is reopening its inquiry into the future of cheques as a result of continuing public concern over plans to abolish them by 2018.
In particular, pensioners who are less comfortable with the internet still rely on them.
The UK Payments Council, made up of the major banks, announced in 2009 that cheques would no longer be used by October 2018, as long as viable alternatives had been developed.
But the committee, which held an inquiry into the issue last year, says it is unconvinced by the Payment Council's argument that cheques are "in terminal decline".
Committee chairman Andrew Tyrie says: "The Payments Council has seemingly forgotten about the millions of people who are less at ease with the latest technology.
"We have been inundated by letters from the public telling us they rely on cheques. Many charities, small business and vulnerable people – including pensioners – depend on cheques.
"Their needs must be considered. They should not be forced into shredding their cheque books."
Future cheque trends
The reopened inquiry will look at trends in cheque usage over time, including projections on the number that will be written in the next five to 10 years.
It will also focus on the advantages and disadvantages of abolishing them and the impact this would have on particular groups, such as pensioners.
The charity Age UK welcomed the decision, saying it had heard from many older people who were "really worried" about the issue and did not know how they would cope without cheques.
The Payments Council says it welcomes the opportunity to update the committee on the work that needed doing before it took a final decision on abolishing cheques in 2016.
Richard North, chairman of the Payments Council, says: "We remain committed to being fully transparent and to keep consulting with those who still rely on cheques."