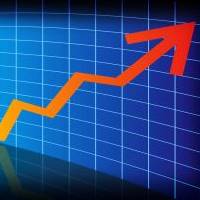 The Government's official inflation measure jumped to its highest level in two-and-a-half years last month, tightening the squeeze on household spending power and increasing the challenge for savers.
The consumer prices index (CPI) increased to a higher-than-expected 4.5% in April from 4% in March, the Office for National Statistics says. Economists had expected the rate to rise to 4.1%.
However, the more representative retail price index (RPI) measure which, unlike CPI, also includes housing costs, fell marginally from 5.3% to 5.2%, though that still means prices are rising sharply.
The RPI fall came from a drop in council tax and house prices, plus a fall in the rate of car insurance price rises.
However, other measurements that go into forming inflation figures showed no signs of easing up.
CPI was last higher in September 2008, when the rate hit a record high of 5.2%, and was last at 4.5% in October 2008.
The most significant month-on-month contribution to the rise in the cost of living came from air fares, which were driven up 29% by the timing of Easter.
Elsewhere, the increase in excise duties on alcohol and tobacco had a major impact.
Interest rates to rise?
The inflation rise is likely to step up pressure on the Bank's Monetary Policy Committee (MPC) to lift interest rates from their historic low.
But any calls for a rate hike to curb soaring inflation are likely to be ignored, as governor Mervyn King and his fellow MPC members have already said they expect CPI inflation to peak at 5% later this year before falling back to the 2% target throughout 2012 and 2013.
Many economists now expect a rate increase in November after the Bank recently slashed growth forecasts.
What it means for savers
Soaring inflation means we all have to pay more for goods and services but it also means savers will see the value of their cash eroded.
Imagine you've £1,000 in the top 3.05% easy access savings account. After basic rate tax you'd have £1,024 in a year – as you've earned £24 interest.
Now suppose that £1,000 is enough for ten weekly supermarket shops. If prices rise by 5.2% next year, you'd need £1,052 to buy the same goods.
So although your savings might have grown, the impact of inflation means what you can buy with the money has fallen, meaning your cash loses value.
With savers squeezed by low interest rates and high inflation, National Savings and Investments has reported strong demand for its inflation-beating savings certificates launched last week that pay RPI + 0.5% over five years (see the NS&I launch MSE News story).
Data provider Moneyfacts says there are no standard savings accounts (other than inflation trackers) available for any taxpayer that beat the 5.2% RPI measure.
Andrew Hagger, from financial website Moneynet, says: "The gloom for savers shows no sign of clearing and it's likely to be sometime before the inflation returns to anywhere near the now meaningless 2% government target."