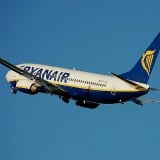 Budget airline Ryanair warned today that surging oil prices will force average air fares up by 12% in the current financial year.
The Irish carrier, which prides itself on its cheap tickets, has already increased fares by 12% in the year to 31 March as fuel costs continued to pile pressure on the airline industry.
The warning on fares came as Ryanair reported a 26% increase in underlying pre-tax profits to €319 million (£277 million) in the year to 31 March.
It says fuel costs increased by 37% to €1.2 billion (£1 billion) in the last financial year as average oil prices increased from $62 (US dollars) a barrel to $73.
The company states: "We cautiously expect that our average fares will rise by up to 12% this year."
Chief executive Michael O'Leary adds that rising crude oil prices did present opportunities for the airline.
He says: "Higher oil prices will force competitors to continue to increase fares and fuel surcharges which makes Ryanair's lower fares even more attractive.
"In many cases competitors' fuel surcharges are higher than Ryanair's lead-in fares. Higher oil prices will lead to further consolidations, increased competitor losses, and more airlines going broke."