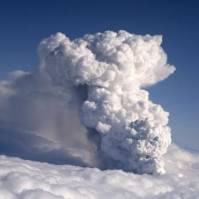 The first ash from the latest Icelandic volcano eruption is expected to reach the north-west tip of the British Isles early tomorrow.
Experts believe it is unlikely we will see the widespread disruption witnessed last year when ash from the Eyjafjallajokull volcano caused airspace shutdowns and thousands of flight cancellations.
The UK's Civil Aviation Authority (CAA) has made assurances that methods of coping with a possible ash crisis were different from those last year.
A CAA spokesman says: "We are in a totally different world as far as procedures go now compared with last year.
"If we have the same level of ash as we did last year there will not be the same problem."
Forecasters say the uncertain weather and changing wind patterns makes it difficult to predict if the ash is likely to affect other parts of the UK.
A Met Office spokesman says: "Looking at charts for early tomorrow, the north-west tip of the British Isles – the Hebrides and the west coast of Scotland – could see some ash.
"But the winds are changeable and another area of low pressure is coming in from the west on Wednesday."
He adds: "Other parts of the UK could see some ash later in the week but there is a lot of uncertainty. It could be an unsettled week with strong winds."
The Institution of Mechanical Engineers also attempted to allay fears by saying that this latest incident, involving Iceland's Grimsvotn volcano, was a "different" kind of eruption from that of last year.
Dr Colin Brown, director of Engineering at the Institution of Mechanical Engineers, says: "The key factor is that this is a different volcano than the one that erupted last year and this volcano typically has produced molten lava rather than fine ash in the past."
A spokesman for air traffic control company Nats said: "It's very much a watch-and-wait situation. We will follow any instructions we receive from the CAA."