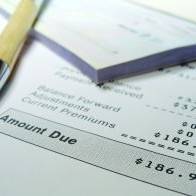 Consumers will soon be able to get permanently free access to their credit report, which can tell them if they're likely to be accepted for a credit card, loan or mortgage.
The membership service from Callcredit will allow consumers to view their report whenever they like at no cost, when it launches, likely to be in September.
The catches are that Callcredit is the smallest of the three credit agencies, while if you fail to log-in every three months your membership will expire, though you can sign-up again for free.
The move follows government pressure, kick-started by intervention from MoneySavingExpert.com.
The service will be available under the brand name Noddle, which launches today.
While free reports for all are a few months away, the first 10,000 to register on its website will get free membership, as part of an upcoming trial, ahead of the full roll-out.
The two major agencies, Equifax and Experian, both offer free membership trials but charge after 30 days if users fail to cancel. Callcredit offered this service until yesterday.
Lenders inform credit agencies if you've kept up with payments, alert them when a borrower makes an application for credit, and more.
That information creates a credit report which lenders view when you apply for borrowing so they can form an opinion whether you're likely to repay that debt. However, not all lenders search Callcredit files.
'Free trials cost consumers'
Noddle says Britons spend an unnecessary £22 million a year on monthly subscriptions they didn't realise they had to pay for.
It adds that one in five of those it surveyed struggle to unsubscribe to the service, with 59% unable to find details on how to cancel. In addition, 32% encountered unhelpful customer services when attempting to cancel.
Martin Lewis, MoneySavingExpert.com creator, says: "It's great to hear people will be able to get their credit reports online for free without jumping through hoops, though worth noting Callcredit is the least used agency, so it's still important to check files at Equifax and Experian.
"The other two agencies do have questions to answer over their 'sign up for a free 30 day trial' schemes.
"We have fielded many questions over the years from people who've found it difficult or impossible to cancel.
"We have a special section on how to do it on the site, yet the companies themselves must make it easier and more obvious."
How will free reports be funded?
The free Noddle service will be access to the full credit report when consumers wish. You will have to pay extra to get a credit score or to be alerted when lenders search your credit file.
These premium services will be one way Noddle funds free reports, as well as launching a voucher service and allowing consumers to apply for financial products via the Noddle site.
MPs' call for free reports
The three major credit agencies all made their reports available online last year for £2, on government orders, in addition to their free trials.
The £2 report is a snapshot on the day you request it, whereas membership services are ongoing so you can log in and out.
The shake-up in the credit report sector followed a damning report by the Treasury Committee in 2009. Part of that report said authorities should consider whether you should be able to search your credit file for free.
The inquiry came after MoneySavingExpert.com suggested the credit agency sector as an area of consumer detriment to the committee when it was considering topics to debate.
Tom Ilube, who is heading up the free Callcredit reports, says: "A credit report is your financial passport. We want to make sure every adult has free access to their report whenever they need it."