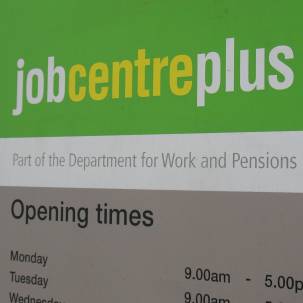 Unemployment has fallen by 88,000, while the number of people in work has increased by a similar number, new figures show today.
The quarterly fall between February and April was the biggest in more than a decade, taking the jobless total to 2.43 million, according to the Office for National Statistics.
However, the number of people claiming Jobseeker's Allowance (JSA) jumped by 19,600 to 1.49 million, the highest figure for more than a year.
Government hopes that private firms will create jobs as posts are cut in the public sector were given a boost with news employment in the private sector increased by 104,000 in the first three months of the year to 23 million.
Other data shows employment increased by 80,000 to 29.2 million, still 333,000 lower than the pre-recession peak in May 2008.
At the same time, public sector employment fell by 24,000 to 6.1 million, and the decline would have been bigger but for the 15,000 temporary jobs created to deal with the Census.
The unemployment reduction was mainly among 16 to 24-year-olds, with unemployment in this age group being cut by 79,000 to 895,000, the lowest figure for two years.
Meanwhile, annual earnings increased by 1.8% in the year to April, down by 0.6% on the previous month, largely because of lower growth in bonuses in private firms.
Average pay was £460 a week in April, up by 1.8% on a year ago.
How to limit the financial damage
If you're out of work or are concerned you may soon lose your job, there are a number of steps you can take to protect yourself.
The Redundancy Help guide has a full break-down but here are some tips for starters:
Pay off debts. If you've any spare savings, use them to clear outstanding credit cards or loans. Having debts hanging over you during redundancy is a nightmare. The cost of most debts vastly exceeds the interest earned on savings ...


... but, keep access to emergency funds. If you pay off debts, and it takes longer than planned to find a new job, you may need some money.


Do a debt audit. If your debts are costing a fortune, consider switching to cheaper forms of credit, though being out of work may mean lenders are less likely to offer new borrowing.


Up your income. There are a host of ways to generate short-term cash, from mystery shopping to flogging your CD collection or old mobile.


Do a budget & money makeover. Run through your finances to see what bills you can cut and do a full budget to ensure you're living within your means (see the Free Budget Planner).