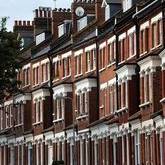 Average mortgage rates have fallen to their lowest level in recent memory.
Some brokers believe there is a chance prices could drop even further given few expect the Bank of England base rate, which plays a large factor in rates, to rise from its 0.5% historic low any time soon, which has led to a fall in the price banks pay to borrow money.
Key Points
Rates at lowest since 1988 records began
Massive boost for borrowers who qualify
But beware spiralling product fees
This doesn't mean costs are necessarily at an all-time low as while rates have fallen, typical mortgage application fees have risen. Nevertheless, the news is a welcome boost to borrowers who qualify for a mortgage.
Only today, Nationwide Building Society said it will reduce all its two and three-year fixed rates by up to 0.3 of a percentage point from Thursday.
Barclays yesterday reduced rates on over a third of its fixed and tracker mortgages under its Woolwich brand by up to half a percentage point.
Record rates
Figures from data provider Moneyfacts show the average two-year fixed rate mortgage stands at 4.28% today, which is the lowest level since it began recording costs in 1988. They have been gradually falling since April.
The average two-year tracker mortgage (a deal that tracks the base rate) is also at its lowest since at least 1988. It stands at 3.25% today, says Moneyfacts.
Brokers partly attribute the fall to plummeting swap rates, the money market rates that fixes are linked to, which are influenced by the base rate. In addition, there has been increased competition among lenders.
However, the average fee on a mortgage has risen over recent months. On a two-year fix, it now stands at £1,002, compared to £889 in January.
This highlights the need to look well beyond the rate when calculating mortgage costs.
David Hollingworth, from broker London & Country, says there is a possibility rates could drop even lower.
He says: "There is still the possibility that more lenders will launch more competitive deals although how much lower they can go is up for debate."
What should borrowers do?
Hollingworth adds: "Some borrowers will still prefer to opt for the initially lower variable rates offered by tracker deals.
"However, many will now be wondering if the peace of mind of fixing is at such an attractive level that they should make the move and guard against a lift in rates in future."
You often need a spotless credit record and at least a 10% deposit to get a home loan, or 25% to get a decent rate.
Hollingworth picks out the following deals as examples of some of the best around.
Two-year fix. Woolwich, 2.54%, 70% loan to value (LTV), £999 fee. Over the term, it would cost £16,320 on a typical £150,000 repayment mortgage if the fee is added to the loan.
Five-year fix. Accord (part of Yorkshire Building Society (YBS)), 3.64%, 75%, £1,995 fee. Over the term, it would cost £46,320 on a typical £150,000 repayment mortgage if the fee is added to the loan. Update, 26 July. YBS has since launced a 3.49% deal, 75% LTV, £995 fee, costing £45,300, using the same mortgage.
Two-year tracker. Royal Bank of Scotland, 1.49% above base (currently 1.99%), 50% LTV, £999 fee. Over the term, it would cost £15,336 on a typical £150,000 repayment mortgage if the fee is added to the loan, assuming base rate remains constant.
The Council of Mortgage Lenders reported today that gross mortgage lending hit £12.6 billion in June, 16% more than the £10.8 billion lent in May, though still 3% lower than June 2010.