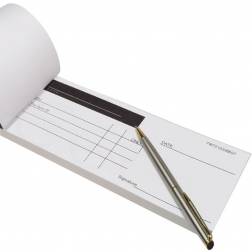 An organisation which sets payment methods in the UK should consider bringing back the cheque guarantee card just months after scrapping it, MPs said today.
The Payments Council, whose members include Britain's biggest banks, abandoned the card in late June due to declining use, before it later reneged on plans to scrap cheques altogether.
In a report published today, the Treasury Select Committee wants to strip the Payments Council of its power to cancel cheques and other payment methods in the future, as well as reconsider its move to ditch guarantee cards, which assured a cheque would not bounce.
The proposal to scrap cheques provoked outrage from small businesses, charities and pensioner lobby groups, who accused banks of ignoring the needs of millions of vulnerable people.
Cheque usage has declined by 70% since 1990 and by 42% in the past five years, according to the Council, with usage expected to decline by a further 40% during the coming five years.
Michelle Mitchell, Age UK's charity director, says the committee's call to consider bringing back the cheque guarantee card is a chance for banks and building societies to "live up to their word and prove that the future of cheques is safe".
Committee's call
The Treasury Select Committee said the scrapping of the card led to more businesses refusing to accept cheques.
The committee has made the following recommendations:
The Treasury should make provision in the forthcoming Financial Services Bill to bring the Payments Council formally within the system of financial regulation;
The Payments Council must obtain a commitment from the banks to give the Council advance sight of any material related to the future availability of cheques that the banks send to their customers;
The Payments Council should examine the reintroduction of the cheque guarantee card;
Changes should be made to the composition of the board of the Payments Council to significantly strengthen the voice of consumers.
Andrew Tyrie, chairman of the committee, says: "The Payments Council is an industry-dominated body with no effective public accountability.
"It should not have unfettered power to take decisions on matters, such as the future of cheques, or other issues, that are of vital importance to millions of people.
"This is why we have recommended that the Council be brought within the formal regulatory system.
"The Payments Council's decision caused great and unnecessary concern among bank customers.
"And during the course of the Treasury Committee's inquiry it became clear the Council's plans did not have the confidence or support of the public, Parliament or the Government."
Gary Hocking, acting chief executive of the Payments Council, says: "Whilst we don't believe increased regulation is required, as part of an existing commitment to the Office of Fair Trading, we are due to review our governance arrangements before the end of the year.
"Payments should be driven by customer demand. The decline in use of the cheque guarantee card scheme was entirely driven by businesses and consumers."