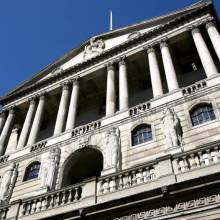 Banks made more credit available to households and small businesses this summer but have warned the eurozone crisis may hit future lending.
Lenders say there was a slight increase in the availability of credit to households in the third quarter of 2011, according to a survey by the Bank of England.
Key Points
Banks made more credit available this summer
Demand for prime mortgages increased
But banks warn eurozone crisis may hit future lending
Credit conditions for large and medium sized businesses were stable, while there was a slight increase for small companies.
But banks warn "adverse wholesale funding conditions", most likely to be caused by the eurozone debt crisis, might constrain their ability to offer loans in the future.
Financial markets have come under increasing strain in recent months after banks became less willing to lend to one another because of fears about exposure to Greek debt.
The eurozone debt crisis has also created a crisis of confidence among investors, reducing the amount of money they have pumped into financial markets.
The report says: "More recent discussions with some of the major lenders suggested that although these factors had not yet led to reduced credit availability, a period of sustained tight funding conditions could act to constrain their ability to extend loans going forward."
Mortgages and businesses
The survey also offers a ray of hope for the housing market, as it revealed that demand for prime mortgages, those which are viewed by banks as relatively safe, has increased for the first time since 2009, while demand for buy-to-let mortgages also showed a "substantial" rise.
Although small businesses benefited from a slight rise in lending in the past quarter, the survey reveals they also faced tighter lending conditions in the form of covenants and collateral requirements.
The findings will add to pressure on the banking industry, which agreed to make more money available to small and medium sized businesses in its Project Merlin deal with the Government.
Demand for credit from small and large businesses fell in the past quarter, although there was an increase from medium sized firms.
But demand across the corporate sector is expected to fall over the next quarter as companies are reluctant to increase their debt amid a backdrop of an uncertain economic outlook and a fall in consumer confidence.
The survey says: "On balance, the latest survey paints a somewhat gloomier picture for credit demand from the corporate sector than for households."