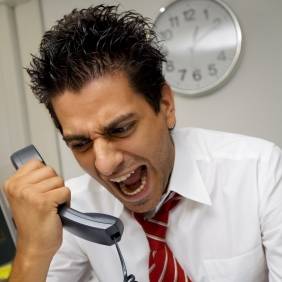 TalkTalk could face a £2 million fine for pestering customers with silent calls, but will make third party call centres pay up, if penalised.
Communications regulator Ofcom has issued home phone and broadband provider TalkTalk this week with a notification for "making an excessive number of abandoned calls" between 1 February and 21 March 2011.
It is understood the company believes the silent calls were made by disgruntled employees at two third party call centres, one in South Africa, one in the UK.
TalkTalk no longer works with either call centre, and says: "If Ofcom imposes a financial penalty, we will recover this sum from the third party responsible."
Silent calls occur when a company uses an automated dialling system to phone customers. If more customers pick up than there are staff to handle calls, some will pick up to a silent line.
Ofcom has given TalkTalk 30 days to show how it will ensure these calling systems won't be misused again, and how it will remedy the problem, after which Ofcom will decide whether to impose a financial penalty.
This could be up to £2 million, following the introduction of new rules in February which aim to protect consumers from annoying, and sometimes distressing, silent calls.
Stop silent calls
If you want to limit the possibility of receiving silent calls, you can register with the Silent Call-gard service.
It adds you to a database used by the major telemarketing companies that use predictive diallers, therefore reducing the number of silent calls.
If the calls continue, you can complain to Ofcom. Just follow these steps:
After the call dial 1471 to see if you can get the number.
If the number is withheld, note the time and date of the call and contact your provider's nuisance call department which may be able to trace the number.
Complain to Ofcom online.