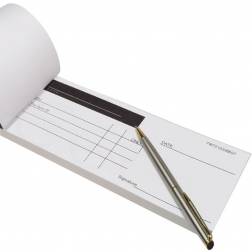 Cheque guarantee cards will not be re-introduced, the body which oversees payments said yesterday, after finding the scheme's closure has had a "minimal impact" on consumers and businesses.
The Payments Council, whose members include Britain's biggest banks, abandoned the cards in late June due to declining use before reneging on plans to end the use of cheques altogether.
Key Points
Cheque guarantee cards will not be reintroduced
Guarantee scheme closed in June
Research found cheques used as they were before scheme closed
The body has come under pressure to re-introduce the scheme, and had promised to look again at the business case for closure if this was backed up by research into the scale of the impact.
But the independent research found cheques are broadly continuing to be used as they were before the guarantee scheme closed in June.
The Payments Council is planning a campaign aimed at older people, who tend to use cheques more than other groups, to reassure users that cheques will stay.
It plans to raise awareness of the availability of the "chip and signature" scheme for those who are unable to use a Pin, a scheme which the Council says is only currently being used in "small numbers".
It also wants to explore the potential for second cards on current accounts, which it says could particularly help housebound people by allowing limited, delegated payments.
Sandra Quinn, director of communications for the Payments Council, says: "The cheque guarantee card scheme will not be re-introduced.
"Our approach is we've done some research, we've looked at the evidence and the evidence supports our conclusion."
Quinn acknowledges concerns had been raised that "the death of the cheque by a thousand cuts" was being brought about by the removal of the guarantee card, but she says this is "absolutely not" the case.
Future of cheques
The Treasury Select Committee published a report into the future of cheques in August.
It warned that without a guarantee scheme or alternative mechanism, cheques could "wither on the vine" due to the risk of shops and other bodies refusing to accept them without being reassured whether or not they will bounce.
Research for the Payments Council showed 600 of the 6,644 people contacted used guaranteed cheques.
Nearly nine out of 10 guaranteed cheque users said that since the scheme closed, cheques were still accepted in the places where they had previously used the guarantee.
Researchers also found that older people had been more likely to have their cheques accepted without being asked for a guarantee.
Half of respondents aged 80 and over said they were expected to show their cheque guarantee card, compared with two thirds of those aged 64 or younger.
Researchers also contacted 1,757 businesses, of which 501 accepted guaranteed cheques.
Some 5% of the 501 businesses have stopped accepting cheques directly or partly because of the scheme's closure, although 60% of these said they would continue to accept cheques from people they know.
Overall, 84% of businesses that received a guaranteed cheque in the past year still accept cheques without a guarantee card.
The cheque guarantee card scheme was introduced in 1969 and its use peaked in 1989 when one billion guaranteed cheques were written.
The Payments Council agreed to close the scheme in 2009 due to its "terminal decline".
Prior to closure, just under 10% of people had used a cheque guarantee card in the previous 12 months, rising to 12% of people aged 65-79 and 13% of those aged 80 or over.