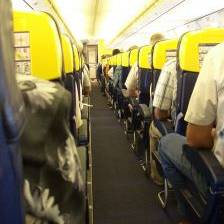 Ryanair has once again raised baggage fees, in some cases adding £120 to the price of a return trip per person.
In extreme cases, this could mean a family of four paying £480 more. while some passengers will have to pay over £100 per bag, per flight.
The move will primarily mean massive extra costs for those who forget to pay online for bags to be stored in the hold, while even those who pay on the web may see hikes.
The baggage fee rises come into force for bookings made from 15 December.
Fee hike for baggage paid-for at airport/call centre
For peak season flights (June, July, August, September and Christmas 2012), a 15kg bag will cost £100 instead of £40 per flight, a £60 hike per flight (£120 return). Off-peak, it'll rise from £35 to £60 per flight.
For peak season flights, a 20kg bag cost will rise from £50 to £105. Off-peak, it will rise from £45 to £75
For off-peak season flights, a second 15kg bag cost will rise from £70 to £105.
Fee hike for baggage paid-for online during peak times
A 15kg bag will cost £25 per flight instead of £20
A 20kg bag will cost £35 per flight instead of £30.
A second 15kg bag will cost £45 instead of £40.
There is no increase is online baggage fees for off-peak travel.
Another hike sees the 'boarding card reissue penalty' per flight raised from £40 to £60 from 15 January. This is avoidable by printing a boarding card online.
For flights departing from a non-UK airport the euro charge will be the same figure as the sterling amount, so a £15 charge will be €15.
Stephen McNamara, from Ryanair, says: "Ryanair continues to incentivise passengers to travel light especially during peak periods by raising our online checked-in baggage fees.
"As always, baggage fees are avoidable. Over 70% of Ryanair passengers will be unaffected by these changes as they already travel with no checked-in bags and instead use Ryanair's free of charge 10kg carry-on allowance."
Last month, the airline extended the scope of its £6 per flight fee (£12 return) for the privilege of paying.
Previously, anyone who booked with any pre-paid Mastercard avoided the charge. Now, only those with a Ryanair pre-paid Mastercard will avoid it.