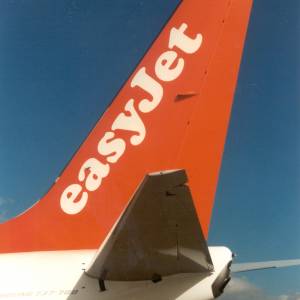 Easyjet passengers can no longer escape a fee for the privilege of booking a flight as the budget airline now charges for using a Visa Electron card.
It has also upped the cost of paying by credit or debit card.
Until yesterday, Easyjet charged customers an £8 fee per booking, plus the greater of £4.95 or 2.5% of the booking cost if they paid by credit card.
Yet people could pay for free with a Visa Electron.
Now all passengers pay at least £9 per booking, including Visa Electron users. Credit cards still attract an additional £4.95 or 2.5% fee.
The move comes after the Government announced plans last month to ban firms using "hidden" credit and debit card surcharges to ramp up the price of flights from the end of this year.
As part of its announcement, the Government said businesses can only charge customers what it costs them to process the transaction.
Consumer lobby group Which? estimates that when paying by debit card, the cost to process the transaction is 10p to 20p. Yet Easyjet charges £9.
Easyjet admin fee (per booking)
Debit card
Credit card
Visa Electron
Was
£8
£8 + £4.95 or 2.5%
(whichever was greater)
Free
Now
£9
£9 + £4.95 or 2.5%
(whichever is greater)
£9
'Come clean, Easyjet'
Fees now appear much earlier in the booking process, although not on the original price for a particular flight, when we tested its system on a London to Barcelona booking today.
Previously, they were only visible on the final payment page.
Martin Lewis, MoneySavingExpert.com creator, says: "If the charge is unavoidable and it comes from the company itself then it's part of the price.
"Easyjet has rather cleverly designed this booking fee so that it can't be incorporated within the price directly. As it's the same fee whether you book a one way to Paris or tickets for an entire tour to Tel Aviv.
"The real test going forward will be how it is communicated. Already on the front page of its website it's advertising flight prices loud and large but without mentioning the administration fee. That's misleading advertising as far as I'm concerned.
"Come clean, Easyjet, you can charge what you like, and while I wish you weren't charging as much for this, if it's clear, at least customers can plainly see what it is and decide whether the cost is something they're willing to meet."
An Easyjet spokesman says: "Easyjet has made booking flights with the airline even more transparent.
"These changes have been made in order to address the concerns raised by consumer bodies and regulators across the European Union, while retaining a simple, transparent and consistent booking process for all passengers regardless of nationality."