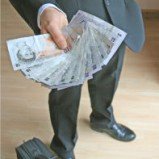 Bank customers who were mis-sold paid-for current accounts can reclaim any money they've shelled out, watchdogs say.
Update, 1 February 2013. See our Packaged Account Reclaiming guide.
The issue reached a head in October last year when City regulator, the Financial Services Authority (FSA), announced plans to force banks to stick to tough rules on the way they sell 'packaged accounts' over concerns of mis-selling.
These accounts often come with a monthly fee of up to £25 — leading to annual bills of up to £300. In return, customers get a range of insurance policies and/or interest-free overdrafts yet many are ineligible for cover or had the account added without their consent.
The FSA estimates one in five of the adult population has a packaged account.
What constitutes mis-selling?
Typical examples include:
You were moved to a paid-for account without your consent
You weren't told of free account alternatives
A salesman said you were eligible for a particular insurance policy when you weren't
Forum user mumsthewordhere said late last year that her elderly relatives were moved to a packaged account without their knowledge: "My 82-year-old father-in-law has a joint current account with my mother-in-law who is 83, terminally ill and in hospital.

"On the third page of his bank statement received today, he says it advises he will be charged £12 a month for a 'Gold Account' from this month.
"He has no car, no mobile, cannot travel on holiday and has never had an overdraft. How dare they impose these charges on elderly people, it's scandalous."
The independent Financial Ombudsman Service, which handles disputes between banks and consumers, says it's not always a black and white case as to whether a bank is guilty of mis-selling.
Where an account was added without consent, this is easy; it's mis-selling.
Where there's been a mistake rather than malice, even if a customer is eligible for one or more of the policies, the sale may be considered inappropriate; for instance, if they bought it for a particular policy they cannot claim on.
However, if a customer is ineligible for a policy, it won't necessarily be deemed mis-selling if other elements of the package are useful.
What are you due?
The Ombudsman says where an account has been inappropriately sold, consumers are entitled to all the cash they've paid for the account back, even if they are eligible for one or more of the insurance policies.
From the Ombudsman's limited experience — it only handled 100 cases last year as the issue only recently came onto the radar — it says some banks only agree to refund a year's worth of payments, but they should refund everything paid.
An Ombudsman spokeswoman says: "If a consumer feels they did not know they had a packaged account or was not suitable for it, they should raise a complaint."
How to complain
If you believe you were mis-sold a current account, then complain to your current account provider first.
If your claim is rejected, or you don't get a satisfactory response within eight weeks, you can take your complaint to the free Ombudsman service.
Dan Plant, MoneySavingExpert.com money analyst, says "We need to show banks they can't expect to get away with shoddy sales techniques, and the FSA crackdown is great to see.
"Anyone with a fee-paying account should check whether they would actually be able to claim on the insurance.
"If not, or you never even realised you had a packaged account, complain straight away."
Please let us know how you get on if making a complaint, in the mis-sold packaged account forum thread.
Sheila Nicoll, FSA director of policy, says: "For some people, packaged accounts represent good value and convenience. But in other cases, customers may find the insurance cover they have paid for is useless.

"We are concerned it may be too easy for firms to sell customers something they do not understand or need."
How big is the problem?
It is understood the FSA doesn't expect a PPI-style mass reclaiming campaign over packaged accounts as mis-selling is not as wide-spread.
It nevertheless has concerns mis-selling has taken place, which means many could be entitled to money back. It says those who believe they were mis-sold should put in a claim.
As mentioned earlier, please report your experiences in the discussion below.