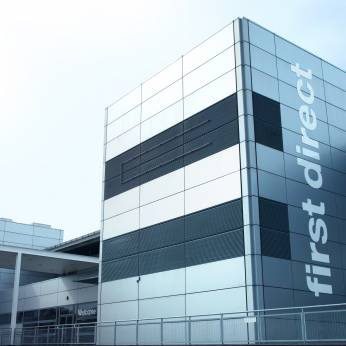 First Direct has come top of all our polls on bank account customer service over the past 18 months. What is it doing right?
Of the 825 First Direct customers who voted in our latest poll this month, 90% rated its current account service as great.
And service is now key — an important part of bank's offering with numerous providers claiming innovations to help customer experience, such as weekend banking and swifter transfers.
Part of HSBC, First Direct also has one of the best current accounts for switchers, with a £100 sign-up bonus and a £250 interest-free overdraft.
Not everything works perfectly. For instance, First Direct customers were unable to access their accounts when HSBC's online and ATM system went down one Friday afternoon last year.
But that didn't dent the reputation of the bank, which opened in 1989.
MoneySavingExpert.com visited its giant headquarters and call centre in Leeds (above, right) to speak to head of banking services Sharon Dawson and head of customer marketing Davnet Reid to find out its secret.
On the service side, what have you done to get it right?
Sharon Dawson: Our focus is around hiring for attitude and training for skill. It's not about somebody being a banker. For every 42 people who contact us, one makes it. We are very selective because our customer service is at the heart of everything we do.
In terms of the day-to-day processes, what do you do that you feel makes you different?
Davnet Reid: People are not scripted and they're not timed on their calls either. So when you take a customer call, it's about building a rapport with your customer. You have to get the right resolution for the customer, and you need to get their issue or their request sorted.
SD: You take personal ownership as well. If somebody comes to me with a complaint, I will take ownership for that and speak to the people and get back to that person, rather than handing it on. It's the same on the telephone. It's about relationships rather than transactions.
Can I say hand on heart that our guys never make mistakes? No. But what we do is invest an awful lot in the training and support of people.
What's the typical profile of a member of staff? Are they first-jobbers, students, career-minded people?
SD: It really varies. It is a very wide selection. It helps to understand the customer as well by having that range, you can deal with a much wider range of customers.
After joining, how soon do people actually go onto the floor and take calls, how much training is there before they start?
SD: At the start, there will be a defined number of simple tasks. To then handle harder queries, lost and stolen queries, that will come later. So it's like building blocks.
How long do staff stick about, as the more experienced they are, the more likely it is they'll do their job correctly?
SD: We encourage people to develop their careers within the call centre, or there are opportunities to move into the sales areas, into the banking areas.
The greater skills that people have, the better they are at being able to respond first time.
Other organisations perhaps suffer from the fact people never get to the end of their accreditation process. They've gone before they've finished.
What's the typical waiting time for customer who calls in?
SD: The target we set ourselves is 20 seconds. Our typical waiting time at the moment is either 11 or 12 seconds.
What's the worst, what's a bad day?
SD: It depends on how the calls come through. Worst case, I'd be disappointed if I saw it take above and beyond a minute.
Twelve to 20 seconds is pretty impressive. Is it because you have the numbers to deal with it?
SD: I think we have our numbers right, but we're certainly not in a luxurious position whereby we have people spinning on their chairs wondering when the next call may possibly come in.
Can your staff deal with all types of enquiries so people aren't pushed from pillar to post?
SD: Our staff can deal with most enquiries, but not all. Take lost and stolen card calls. There will be relatively few, so it doesn't make sense to train everybody on that, because they will get the calls so infrequently.
But for the vast majority of types of calls to our front line people, all of those people are trained in many areas such as banking, savings, mortgages.
Was customer service as important when First Direct started back in the late 80s, as it is now?
SD: Absolutely. When Midland Bank, as it was, HSBC now, defined Project Raincloud, which was the name of developing and building First Direct, the customer was absolutely core.
The senior execs came in, they had a piece of paper and literally the only thing on the paper was "customer" in the middle of it. That's how they started the conversation and then they worked out from there.
That's how First Direct started and in my view - I've been here quite a few years - it hasn't changed, it is always the customer is at the centre.
We have an advantage as other banks don't have that luxury. They were developed decades ago, before this emphasis on service.
What's more important to you? Rate or service?
SD: They're both important, our £100 current account bonus may get people in but the service outweighs everything once you get them in.
We always try to give top service and rates. Whether or not they're always the best rates, probably not, but we try to get the two right.
We try to remain competitive on rate and stay up there in the top quartile. The reason we get customers is because of service. That's our unique selling point and what we pride ourselves on.
Moving away from First Direct, as an industry, how important do you think customer service is to banks?
SD: The biggest single reason people join First Direct is poor service from a previous provider.
We do our best to pull customers in, in respect of our customer service. But actually their existing banks are almost pushing from a service perspective.
Where have the others got it wrong?
SD: Number one for me is around people and not machines. Irrespective of when you call, or who you call, you get a real life individual who will tailor their response to your needs here.
We're people, human beings first, and bankers later. Where I have issues with service elsewhere, it's about making things easy.
So my car's been written off and I needed to tell the DVLA that my car's been written off. I've been on the website, I've been on, a phone, press 1, 2, 3, I can't find what I need to do, anywhere.
With us, but not always elsewhere, you're straight to a human being.
Do you think the banking industry is good enough when it comes to service?
SD: No. Customers are telling us that themselves. If you look at satisfaction, if you look at the press, if you look at any comments, they're not happy with the service they receive from banks generally.
Do you think some banks chase customers then have too many to deal with so service suffers?
SD: You see organisations that are advertising very strongly and equally their satisfaction is very poor, so there seems to be some disconnect between their desire to attract customers in and their ability to then deliver strong service.
Customers vote with their feet. So you might get them in on a rate and yes, it might be 3% savings when the base rate is 0.5%. But if you don't give them the service, they'll leave.
What's the magic wand? What's the secret to service?
DR: Everything that's been built here has been built with the customer at the centre. Whereas every high street bank, its legacy is banking in a different way.
They bring in Saturday banking, they then bring in telephone banking, then online banking.
This bank was built on service.
Observations of the First Direct operation, by Guy Anker
The first thing that hits you when you get to its combined office and call centre is the sheer size. It is massive, effectively a warehouse with towering ceilings that could probably house numerous jumbo jets.
There are desks-after-desks with staff on the phone.
But it isn't bland or lifeless. There are decorations galore, the meeting rooms are funky and there is plenty of natural light.
The top brass, marketing, finance and other administrative departments are part of the huge open-plan office, not set in separate parts of the building.
In fact, chief executive Mark Mullen sits with staff, not in a stuffy office on his own, which may make him more approachable.
The atmosphere is good, but I did visit on a beautiful day, when everyone was in a good mood.
A 15-minute tour of a call centre and office doesn't tell you a lot. But it points to a nice working environment, which can't do any harm.