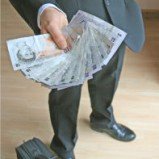 Compensation paid to victims of payment protection insurance mis-selling hit at least £1.9 billion in 2011, new figures show.
The Financial Services Authority says £441m was paid out in December, the highest monthly total on record, completing the total for the year.
But there is still a long way to go — it is estimated the total bill for all victims' redress could hit £9 billion.
There has been a huge jump in compensation since the British Bankers' Association trade body ended a legal battle in May 2011 which attempted to block the FSA's rules on compensation.
These rules force banks to review past sales of PPI – to cover loan or credit card payments when people cannot work – and contact those mis-sold to offer money back, even to borrowers who have never complained.
The independent Financial Ombudsman Service, which arbitrates in disputes between banks and their customers, says that on average, those who receive compensation get £2,750 each. It upholds three out of four cases in the customer's favour, telling the business to pay compensation.
How to claim
If you've had a loan or credit card and were told PPI was compulsory, had it added without consent, were self-employed, unemployed or retired, it's likely you were mis-sold and can get the money back even if the debt's been repaid.
You may not even know you had or have PPI so check statements carefully. It is sometimes referred to as 'payment care', a 'protection plan' or 'protected loan'.
If you feel you were mis-sold PPI, complain to the firm that sold it. If you are rejected or do not get a satisfactory response within eight weeks you can take your complaint to the Ombudsman.
Banks are unlikely to contact everyone, so you could miss out if you don't act.
The FSA's data comes from 16 firms, which account for 92% of the complaints made over PPI.