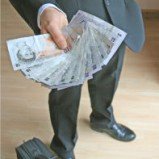 A father from Essex has received over £82,000 for mis-sold payment protection insurance (PPI), the largest debt cover payout ever reported to us.
Phil Stephens was paid the mammoth sum by Barclaycard in November after a 16-month battle to get HIS money back.
He says the insurance just appeared one day. He had no idea what it was for, or why he was charged.
This is typical of many PPI mis-selling cases where banks and other lenders simply add the cover without the customer's knowledge.
"I never asked for PPI," explains Phil, who has had a Barclaycard for 28 years.
Everyone should check if they're owed
It is estimated sellers will have to pay out £9 billion after banks lost a High Court case last year where they attempted to derail plans to force automatic payout to victims. They paid out almost £2 billion last year.
Martin Lewis, MoneySavingExpert.com creator, says: "The sheer scale of cash paid here shows why it's so important everyone who's had a loan, credit or store card within the past ten years checks now to see if they had this insurance added.

"Many have had it without knowing, a strong indication of mis-selling. Others were lied to, being told it was compulsory, or were sold it even though it didn't cover them because they were self-employed or had past medical conditions.

"There's still huge amounts of money in banks' coffers as compensation. And since they lost their High Court battle, it's become much easier to claim."

For full help on how to reclaim, including free template letters, see our Free PPI Reclaiming guide.
The good news for Phil and his family
Phil, 46, who is married with two teenage kids, first made a claim in July 2010 but was rejected by Barclaycard.
Thankfully, unlike many people who get put off at that stage, Phil (pictured, right) continued. He went to the free independent Financial Ombudsman Service, which found in his favour in September last year.
He got an £82,300 payment, split between his two cards, in November.
Now he has his money back, Phil has paid off family debts, done up his home and paid for a luxury cruise with his wife. But...
The bad news — Phil has to give £25,000 away
While the story is inspirational in one sense given the huge reclaim, it serves as a warning to PPI mis-selling victims not to pay anyone to do it for them.

After being rejected by Barclaycard, Phil then contacted a claims company to continue his claim. He had to pay the firm £25,000 in fees from his redress.
He says: "It is an incredible amount of money, which makes a big difference.
"Of course, I'd have preferred to keep the extra £25,000 but at the end of the day I'm debt-free, which is great."
Do it yourself and keep your money
Going to the Ombudsman mainly involves filling out a form yourself. This means you can reclaim for free, keeping all of your compensation, which was your money to start with.

Financial Ombudsman chief executive Natalie Ceeney says: "There is no need to pay a claims manager to make a complaint. Why pay someone else to do it for you when you're just as likely to win by doing it for yourself for free?
"If you're stuck, use the free help given by sites such as MoneySavingExpert.com. If you want to call someone, give us a call on 0300 1239123 and we will try to answer questions."