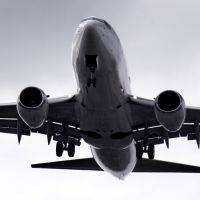 Higher rates of the air passenger duty (APD) airport departure tax take effect this week, meaning passengers will pay around 8% more for travel.
Yesterday's increase will mean a family of four flying, for example, to Florida, will have to pay a total of £260 in APD, while a family of four jetting off to Australia will fork out £368.
Key Points
APD went up on 1 April
Average ticket increase of around 8%
Airlines condemn the rise
Airline chiefs urged Chancellor George Osborne to re-examine plans for further APD hikes, while the British Air Transport Association (BATA) says APD is "a tax on tourism".
The majority of travellers booking flights over the past few months for post-1 April travel would already have had the increased APD cost factored in so won't be asked for extra cash. You usually see the costs in the 'taxes and charges' section in the fare breakdown.
APD is is a tax on airlines. It is up to them whether they pass the cost onto passengers, though most do.
As the Treasury is intending to increase APD revenue up to 2016, air passengers face further increases which could push APD for a family of four travelling to Australia up to £500.
'Pricing families out of the skies'
Easyjet chief executive Carolyn McCall, Ryanair boss Michael O'Leary and Virgin Atlantic chief executive Steve Ridgway yesterday joined Willie Walsh, boss of British Airways' parent company IAG, in condemning the latest rise.
They said: "APD rises again on April Fool's Day but the public should not be fooled again by this tax and the damage it does to them, to jobs and to the wider economy.
"We urge George Osborne to make APD the first tax to be examined under the Treasury's new review of the wider impacts of taxation on the economy and to halt the proposed rise until this review is complete."
BATA chief executive Simon Buck says: "It beggars belief that APD is rising yet again and by such a vast amount.
"It has become a tax on tourism, making it increasingly difficult for ordinary families to afford their annual summer getaway. In Britain we already pay the highest aviation duty of any country in Europe."
A Treasury spokesperson says: "The Government took action by freezing Air Passenger Duty last year and we've always been clear that APD would go up this April."