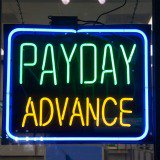 Vulnerable borrowers could be better protected against payday loan companies, after lenders agreed to improve their codes of practice under Government pressure.
Four trade associations, representing over 90% of the payday and short-term loan industry, have agreed to sign up to a number of commitments to deliver better consumer protection by 25 July.
The controversial industry is also the subject of numerous investigations amid concerns of sky-high fees and preying on vulnerable borrowers.
Fees are often around £25 per £100 borrowed, though they can spiral if you pay late or are encouraged to pay late by lenders, as often happens.
A Government probe into whether or not to cap the cost of credit is expected at the end of the summer. The Office of Fair Trading (OFT) also launched a review of the payday lending sector in February. It expects to announce its findings and strategy to raise standards later this year.
Earlier this week, the OFT warned lender Wonga to stop its aggressive debt collection tactics.
Today's announcement comes as part of the Government's response to the Business Select Committee's report into debt management, published in March.
Following "intensive discussions" with the Government, the four trade associations (the Consumer Finance Association, Finance and Leasing Association, British Cheque and Credit Association and Consumer Credit Trade Association) have agreed to add the following commitments to their codes of practice:
A good practice customer charter explaining how the loan works and the costs involved.
Increased transparency about loan repayments, so consumers can make informed decisions and are not surprised by hidden payments.
Provide more help for customers in financial difficulty by freezing charges and interest if a reasonable repayment plan can be agreed, or after a maximum of 60 days of non-payment.
Undertake robust credit and affordability assessments to ensure loans are suitable for the customer's situation.
The trade associations have agreed to effective compliance monitoring of members to root out poor practice in the industry.
If members don't comply with the codes of practice, they can have their membership of the trade associations taken away.
'Step in the right direction'
Alana Fitzpatrick, money analyst at MoneySavingExpert.com, says: "While this is a step in the right direction, we want it to be mandatory for companies to adhere to the new codes of practice and they should face stronger penalties if they don't comply.
"However, it's good to see that the changes are coming in so soon."
Business Minister Norman Lamb says: "Today's agreement by the payday lending industry is a step in the right direction and I welcome the commitment of the four trade associations to strengthen their codes of practice.
"The Government sees it as vital for the industry to deliver real enhanced consumer protections and to provide more clarity through a good practice customer charter."
A joint statement from the four trade associations says: "As trade associations, we are committed to good practice in the payday and short-term lending markets, and we have worked closely together and with the Government to develop this new set of standards, which add to those already contained in existing codes of practice."