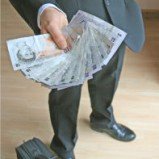 Complaints over mis-sold payment protection insurance (PPI) once again dominate claims to the independent arbitrator, the Financial Ombudsman Service.
Of the record 264,375 formal disputes lodged in the last financial year, which finished in April – up 28% on the previous year – 60%, or 157,716, were about PPI. This is the highest number of complaints ever received about a single financial product.
More consumers understand they can reclaim for free, as 69% of PPI complaints were brought by claims companies, down from 76% last year.
However, the figure is still high, especially given claims firms usually take 30% of a claim, which is £825 on a typical £2,750 claim. The Ombudsman says those who use a claims firm have no greater chance of success.
It is estimated consumers are entitled to £9 billion in total in mis-sold PPI, over £3 billion of which has already been paid out.
Of the total number of complaints, consumers are successful in 64% of cases, up from 51% in the previous financial year.
Motor and home insurance up
It's not just PPI where an increase in complaints has been recorded.
The number of non-PPI insurance-related complaints increased by 31%, driven primarily by motor insurance (up 26%), buildings insurance (up 31%) and contents insurance (up 23%).
Banking and credit complaints were down 1%, but credit card complaints increased by 10%, and mortgage complaints increased by 35%,
The number of investment complaints was down 4%, but pensions were up by 28%.
Natalie Ceeney, chief ombudsman, says: "This year's been a struggle for many consumers, who've found themselves burdened by debt, besieged by claims companies and bewildered by the complexity of financial services."
The free Financial Ombudsman Service settles disputes between consumers and financial firms. You can make a complaint if you've been rejected by your bank, building society, lender or other organisation, or if you've waited at least eight weeks without resolution.