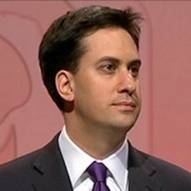 Labour leader Ed Miliband says the big five banks should sell up to 1,000 more branches to increase competition.
He will talk more about his ideas later today in a speech to the Co-operative Bank, which is in exclusive talks with Lloyds Banking Group to buy more than 600 of its branches.
But Miliband (right) will say he wants at least one other privately-run "challenger" bank to be given the chance to break into a market dominated by Barclays, Lloyds, HSBC, RBS/NatWest and Santander.
Other elements of his planned shake-up include a code of conduct with a power to permanently "strike off" errant bankers, modelled on the British Medical Association, and a specialist banking unit set up with the Serious Fraud Office.
Amid continued controversy over a potential multimillion-pound payoff for ex-Barclays boss Bob Diamond following the Libor rate-fixing scandal, he will also back EU proposals to ensure bankers' bonuses don't exceed their basic salary.
He will also publish a report on Labour's case for a British Investment Bank to help the business sector, which is "having to compete with one hand tied behind its back" because of the lack of available credit.
Banking change
"The revelations of the last two weeks has shown precisely what has gone wrong with our economy in the last decades," he will declare before taking questions alongside shadow chancellor Ed Balls.
"And the test of whether we can change things now starts with our banks.
"Last September I said to the Labour Party conference that Britain needed a different kind of economy.
"An economy based not on the short-term, fast buck, take-what-you-can culture we see too much of in our banks today. But on long-termism, patient investment, and responsibility shared by all.
"Today I am going to tell you what a better banking system would look like. I will describe the first steps towards moving from the casino banking we have to the stewardship banking we need.
"It will mean root and branch change for our banks if we are to deliver real change for Britain, if we are to rebuild our economy so it works for working people, and if we are to restore trust in a sector of our economy worth billions of pounds and hundreds of thousands of jobs to our country."