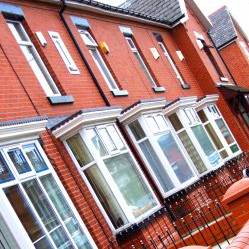 Rents are up for the third month in a row as mortgage lenders tighten their borrowing criteria and people struggle to get on the property ladder, a study says.
The average rent increased by 0.9% month-on-month in June to reach £718 a month, just shy of the record £720 seen in October 2011, according to lettings agent network LSL Property Services, which owns chains Your Move and Reeds Rains.
Key Points
Rents rose 0.9% month-on-month in June
Average rent now £718 a month
Third monthly rise in a row
The pace of annual rental inflation across England and Wales also rose as a result, to 2.4% in June, from 2.3% in May.
Wales saw the largest month-on-month rise, with rents increasing by 2% to reach £545.
Following a monthly rise of 0.9% to £1,047, London's rents hit a new high for the second month in a row, making rents in London 4% higher than they were a year ago.
Tightening borrowing criteria
Lenders have been tightening their borrowing criteria in recent months as well as raising their rates for new and existing borrowers amid the weak economy and the ongoing eurozone crisis.
While there have been signs of increased competition to attract less "risky" mortgage customers with hefty deposits, those with low deposits are expected to have a tougher time finding a mortgage in the coming months.
LSL director David Newnes says shorter-term factors also came into play in June, with tenants looking to move before the summer holidays, a trend which has been exacerbated in London by people wanting to avoid the disruption of the Olympics.
Newnes adds: "The sheer weight of tenant demand continues to push up rents across the country.
"Lending criteria remains tight and the number of mortgages given to first-time buyers – especially those without substantial deposits – is still a long way from the level seen before the credit crunch."
The study also found overall rental arrears deteriorated in June, with 9.2% of all rent late or unpaid at the end of the month, an increase from 8.9% in May.