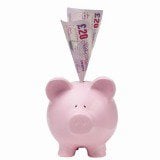 Students heading to university this autumn can expect to spend an average £9,250 a year on the cost of living, according to research published on the day A Level results come out.
However, any money borrowed as a student loan to cover these costs won't necessarily have to be paid back in full.
A student will spend, on average, £4,159 on accommodation and £1,440 on food each year, according to insurance company LV's study.
Essentials such as household bills, books and travel will add to the cost.
Of course, there are also tuition fees, which can be up to £9,000 per year, but these do not need to be paid upfront.
Instead, students can get a loan to cover the cost which only needs repaying once they earn over £21,000 a year. So it should be seen more as an extra tax than a standard debt (see our guide on whether to pay upfront or get a loan). Any outstanding debt is also wiped out after 30 years.
Help with living costs
Maintenance loans are available to cover living costs.
The maximum annual loan for living is £4,375 for those who live with parents, £5,500 if they live away from home (£7,675 in London or £6,535 overseas). These also only need repaying when a student earns £21,000 a year, and they also wipe after 30 years (see the Student Loans 2012 guide for more info).
Maintenance grants, which don't need repaying, may also be available. Students can get up to £3,250 a year, depending on household income. The maximum loan entitlement falls for those who get a grant.
Martin Lewis, MoneySavingExpert.com creator and head of the Independent Taskforce on Student Finance Information, says: "Combating the myths and misunderstandings in student finance is not an easy task.
"After a year of universities and schools focusing on explaining how the system works to 2012 starters, thankfully many more of them now have a decent understanding of the commitment they're making by going to university.

"The difficult bit to get your brain around is the price tag of a university. The size of the loan taken has only a loose resemblance to what you repay as that mainly depends on how much you earn after graduation.
"Those who earn a large amount can repay many times what they borrowed. Those who earn lower end salaries will need to repay little or nothing."
Expected costs
According to the new Cost of University study from LV, students can expect to spend the following, on average:
Accommodation: £4,159 a year (£12,478 over three years)
Food: £1,440 a year (£4,319)
Leisure and clothes: £1,707 a year (£5,122), though this figure seems low, especially for London-based students.
Utility bills: £616 a year (£1,233)
Household essentials, including toiletries: £376 a year (£1,129)
Books and equipment: £344 a year (£1,032)
Travel, including going back home: £483 a year (£1,450)
Insurance: £129 a year (£258)
Students should also get a student bank account with the biggest 0% overdraft possible, so if you do dip into it, at least you won't be hit with charges.
For full help see our Student Loans 2012 myth-busting guide, our Student Bank Accounts guide and our Budget Planner guide.
Missed out on a university place? Don't panic

Martin Lewis adds: "To those young people getting A Level results today that don't quite hit what they aimed for, the doors aren't closed.
"Look at clearing places, consider taking a year out and reapplying as there are no changes planned to student finance in 2013.
"Also look at the option of part-time study, which could be a more attractive option for some still wavering. Part-time degrees also give people more flexibility to allow them to study and have a job, and there may also be courses available that aren't to full-timers."