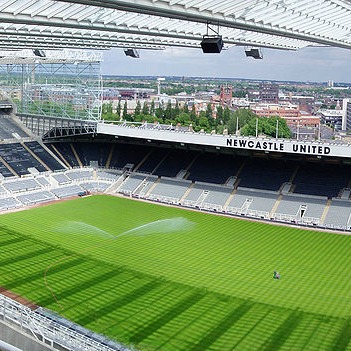 Newcastle United's decision to agree a sponsorship deal with payday loan company Wonga has prompted an angry reaction.
The football club has signed a four-year deal with the company, which will include sponsoring the Premier League team's shirts next season.
Key Points
Wonga signs sponsorship deal with Newcastle Utd
Decision condemned by MPs and civic leaders
Wonga branded 'legal loan shark'
But civic leaders and MPs have condemned the decision. Controversial payday loan firms are often accused of preying on the poor with sky-high loan rates.
Nick Forbes, leader of Newcastle City Council, says the deal represents a "profit at any price" culture at the club and warns of the possible social consequences.
He says: "I'm appalled and sickened that they would sign a deal with a legal loan shark.
"We see the devastating consequences of people getting into financial difficulty and we spend a lot of money helping people in debt through companies like this.
"We fight hard to tackle legal and illegal loan sharking, and having a company like this right across the city on every football shirt undermines our work."
Stadium name
Ian Lavery, MP for Wansbeck, is a season ticket holder at the club but now says he will not set foot in St James' Park.
Wonga has bought naming naming rights to the stadium (pictured right), but has elected to reinstate its traditional St James' Park name. It had been officially known as the Sports Direct Arena after club owner Mike Ashley's company, a move which had angered fans.
The company is also putting money into the club's academy for young players, and the Newcastle United Foundation Enterprise Scheme, a community programme.
As well as Newcastle United, Wonga also sponsors Championship side Blackpool and Edinburgh-based Scottish Premier League club Hearts.
Spiralling fees
Walthamstow MP Stella Creasy has also renewed calls for the Football Association to extend its ban on alcohol and gambling advertising on merchandise for under-18s to include payday loan companies.
The Red Card for Wonga campaign wants football clubs to refuse to work with payday loan companies until the Government introduces a cap on the cost of credit, an issue Creasy has been campaigning on for the last few years.
Fees are often around £25 per £100 borrowed, though they can spiral if you pay late or are encouraged to pay late by lenders, as often happens.
Alex Horne, from the FA, told BBC Radio 5 Live it would be talking to the leagues about the issue on Friday.
Errol Damelin, founder and chief executive of Wonga, says: "We're really proud to be involved with Newcastle United.
"It is one of the biggest and most important clubs in the UK by any measure and has a fantastic following around the world.
Additional reporting by Helen Knapman.