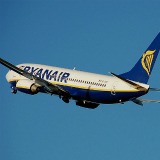 Ryanair passengers will soon no longer be able to escape its admin fees levied when booking flights, making its £6 each-way charges completely unavoidable, MoneySavingExpert.com can reveal.
The budget airline currently levies the sum for each one-way flight (£12 return), although flyers with a Ryanair Cash Passport Mastercard are exempt, but not for long.
From 1 December, all customers will pay the fee for the privilege of booking a flight, even those using its own plastic. The cost is flat, regardless of how you pay, so it's no more expensive to pay on a credit card than on a debit card. The move has angered some Ryanair Cash Passport customers who say they only got the prepaid plastic to escape the fee.
The silver lining to the increased rate is Ryanair says it will be displayed upfront, and not hidden until the end of the booking process.
Airlines have traditionally not disclosed payment fees to passengers at the start of the process, so flights look artificially cheap.
Until November 2011, you could avoid the £6 Ryanair fee using any prepaid Mastercard, but since then the airline's plastic has been the only payment method allowing you to escape the charge. A few years ago, consumers could also use Visa Electron cards to skip the fee.
Upfront charge
The new Ryanair fee comes after an OFT investigation in July which led to 12 airlines — including Ryanair and Easyjet — agreeing not to hide charges until the end of the booking process, and instead include all compulsory fees in the headline price.
It is similar to the £9 per booking charge (more if paying on credit card) now levied by rival Easyjet for all customers. Ryanair insists it will include the fee in the upfront price.
Guy Anker, MoneySavingExpert.com news editor, says: "It's disappointing on the one hand that the fee is now unavoidable as it means higher prices for some.
"However, at least it will be clearer to allow consumers to compare prices — assuming Ryanair keeps its transparency promise. But it's a damning indictment on the airline industry that it's taken this long to be honest with customers and state the true cost upfront."
Ryanair says in an email to Cash Passport holders: "It is with regret that we write to inform you that, as a result of decisions by the UK Office of Fair Trading, Ryanair Cash Passport card users will no longer benefit from avoiding the £6 admin fee."