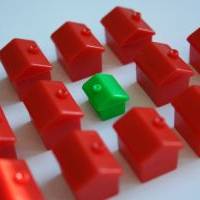 Coventry Building Society will soon become the latest lender to pull out of offering interest-only mortgages to new residential borrowers.
The mutual announced this morning it will axe these deals from Monday. Existing interest-only borrowers are unaffected, unless they want to take more cash.
Key Points
Coventry and RBS to axe new interest-only loans from Monday
Other lenders pulled out this year and criteria toughening
But more mortgages available as lending scheme kicks in
Royal Bank of Scotland and NatWest announced earlier this week they would withdraw from new lending on interest-only. Again, existing customers are unaffected by the sister banks' move, which also begins from Monday.
RBS, NatWest and Coventry will all continue to offer interest-only deals to buy-to-let customers.
Lenders have gradually been pulling out of interest-only over the past few months. The Co-op and Nationwide also stopped this type of lending to new customers this year.
Even lenders that still sell it sometimes demand huge deposits of 50%, which is £100,000 on a typical £200,000 purchase.
Lending clampdown
The moves come ahead of a crackdown on interest-only borrowing from 2014, which will require borrowers to prove they are making separate plans to repay the loan. The new rules do not outlaw this type of lending, though.
However, there has been much talk of an "interest-only timebomb", as many households are not saving to pay off the debt itself.
More lenders now require borrowers pay both capital and interest together on a 'repayment' mortgage.
With an interest-only deal, homeowners only pay the interest during the term, and have to pay the loan itself back at the end.
Mark Harris, chief executive of mortgage broker SPF Private Clients, says lenders should think twice before pulling out completely.
He explains: "Interest-only is necessary, suitable and appropriate for a certain type of borrower. It is a shame that lenders follow each other like sheep and are all reining in their interest-only lending.
"The problem is lenders are scared to stand out from the crowd."
More mortgages
While interest-only as a method of repayment is dying, the number of mortgages available has increased by 17% since a new Government scheme to kick-start lending was introduced, research shows.
The £80 billion Funding for Lending scheme gives banks and building societies access to cheaper cash to lend out.
There are now more than 2,780 mortgage deals on the market.
However, it is borrowers with bigger deposits that have seen the bigger increase in choice, the study by price comparison site MoneySupermarket.com shows.
The number of mortgages available for borrowers with a 40% deposit has increased by 46%, from 285 in April to 424 deals at present. The average rate has fallen from 3.91% to 3.43%.
However, those with a 20% deposit have seen a smaller increase in the number of mortgages available, with 381 available in April and 467 available this week.
The average rate has fallen from 4.1% to 4.01% for those with a 20% deposit.
However, the number of 95% mortgages has only increased from 26 in August to 32, while the typical rate has risen from 5.82 to 5.83%.
Mortgage approvals increasing
Figures released by the Bank of England show the number of mortgage approvals in October was the highest since January, at 52,982.
However, it is still tough to get a mortgage. Not only do you need a decent downpayment, but also a good credit history.
Additional reporting by Jamie Stinson.