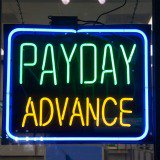 Labour is claiming victory in its crusade to cap the cost of payday loans.
The Government this afternoon accepted the key point raised in an amendment tabled to the Financial Services Bill by Labour's Lord Mitchell.
That amendment would give the new regulator power to cap payday lenders' charges, which the Coalition now supports.
Commercial Secretary to the Treasury Lord Sassoon said in the House of Lords today that the Government would table a new amendment that included this clause, expected to be next Wednesday, if Lord Mitchell withdrew his amendment, which he did.
Lord Sassoon said the Government would make it explicit that the Financial Conduct Authority (FCA), which takes over the Financial Services Authority's consumer watchdog powers next year, would have the power to cap payday loan charges (see our payday loans guide for cheaper, safer alternatives).
He claims the Government's amendment will also go further in protecting consumers.
Technically, the FCA already has these powers, the Treasury insists, though it is not explicitly written in the rule-book. It would still be up to the FCA to use these powers in future.
'Protecting consumers'
Labour Shadow Financial Secretary to the Treasury Chris Leslie MP says: "In the face of certain defeat in the Lords, the Treasury have been forced to accept the principle of Labour's amendment and give the new financial regulator a clear power to protect consumers from extortionate interest rates.

"We now need the FCA to act on these new powers and tackle high-charging payday lenders who are exploiting some of the poorest."
Labour MP Stella Creasy has been one of the most vocal MPs on the matter, and she has consistently campaigned for a cap on charges.
She tweeted this afternoon: "Today is not the end of #sharkstoppers but it is 'the great leap forwards' as govt accept principle of regulating credit costs."
High payday loan charges
Borrowers can pay though the nose for a payday loan, which has led many into debt.
The National Debtline charity has taken over 15,000 calls already this year from people struggling to repay payday loans. In all of 2011, it took 10,000 – a "staggering growth rate".
Wonga charges £46 to borrow £200 over 20 days, though the real sting in the tail from payday lenders comes in late payment fees.
Many horror stories have been reported of borrowers being charged hundreds of pounds in additional fees, sometimes dwarfing the original loan amount.
Additional reporting by Helen Knapman.