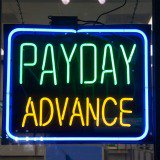 About four million people in the UK are considering taking out a payday loan as they come under pressure from Christmas costs, research suggests.
Some 8% of people surveyed by R3 said the cost of the festive season is driving them towards considering taking out a payday loan, which it says could equate to four million people if the figures were projected nationally.
Key Points
8% may consider a payday loan this Christmas
Would affect four million if figures projected nationally
'Significant number' may struggle to repay in time
R3, which represents insolvency practioners, raises concerns that a "significant proportion" of these people will struggle to pay the loan back in time, and some could end up seeing their financial problems worsen.
The findings were released as debt charity StepChange says it expects to have dealt with more than 30,000 people this year who needed help with payday loan problems – almost double the 17,414 people it saw with this type of issue in 2011.
Payday loan cost cap
Last week, it emerged that the Government is planning to give new regulator the Financial Conduct Authority (FCA) the power to cap payday lenders' interest rates. An announcement is expected later today.
The Office of Fair Trading is also carrying out a review into the industry and said last month that several payday lenders are facing formal investigations over the use of "aggressive debt collection" methods.
However, the payday lending industry, which recently signed up to improved customer codes, argues most customers are happy with the service they receive. It claims more than half say using a payday loan has prevented a short-term cashflow problem turning into a bigger crisis.
R3's Louise Brittain says: "A significant proportion of individuals taking out payday loans will not be able to pay off the loan in time – meaning they will need to take out another one or roll it over, and could end up facing high penalty charges.
"We know from research last year that one in three of those who took a payday loan couldn't pay off the first loan, so had to take out another one."