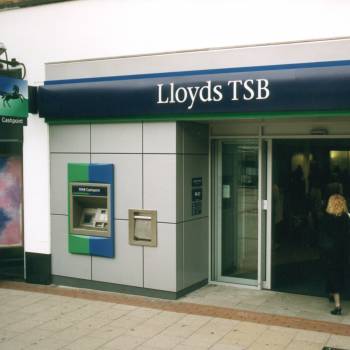 Lloyds TSB and Bank of Scotland are suspending the sale of paid-for current accounts in branches and over the phone in the new year.
The temporary move from the sister banks follows concerns over mis-selling of these deals, often called packaged accounts, raised by the Financial Services Authority (FSA).
The pair will continue to sell these accounts online, while Halifax, also part of the same group, will still sell packaged deals in branches and by phone as well as online.
A Lloyds spokesman says: "We have made the decision to harmonise the way we sell packaged bank accounts across all brands within Lloyds Banking Group and align the sales process with that currently used within Halifax.
"While we make these changes, for a short period from 1 January 2013, customers will only be able to purchase a Lloyds TSB and Bank of Scotland Added Value Account online. We expect to fully re-enter the market later in 2013."
Lloyds denies the move is amid concerns over mis-selling, though a whistleblower told personal finance website This is Money "the bank is having to pull the plug on staff selling these products because of fears they risk being mis-sold".
FSA crackdown
New FSA rules which come into force on 31 March are designed to stop banks selling packaged current accounts with benefits they can't use, following concerns over mis-selling.
Packaged accounts come bundled with a range of insurance policies and other features, such as overdraft facilities or music downloads. They often come with a monthly fee of up to £25, working out at up to £300 a year.
However, many are not eligible for the cover they get with their account, or had the fee added without their consent.
How to complain
If you believe you were moved to a paid-for account without your consent, you weren't told of free account alternatives, or a salesman said you were eligible for a particular insurance policy when you weren't – you may have been mis-sold.
If so, complain to your current account provider first. If your claim is rejected, or you don't get a satisfactory response within eight weeks, you can take your complaint to the free Financial Ombudsman Service.
The Ombudsman says where an account has been inappropriately sold, consumers are entitled to all the cash they've paid for the account back, even if they are eligible for one or more of the insurance policies.