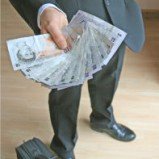 Consumers should have better protection when using peer-to-peer (P2P) lending firms over the next few years.
The Treasury has confirmed the new Financial Conduct Authority (FCA) will police the sector from 2014.
The detail is not yet clear, such as whether savers will get Financial Services Compensation Scheme protection. This gives guarantees savers the first £85,000 of their cash if the institution holding their money goes bust.
A consultation is due in January to iron out key points, such as the compensation issue.
P2P currently has minimal regulation. The Office of Fair Trading oversees the debt management side of the industry to ensure borrowers struggling to repay cash are treated fairly, but that is as far as it goes.
How P2P works
With P2P, the companies themselves are conduits between consumers who lend to each other.
A saver with a P2P firm is effectively lending their money to another individual, who is a borrower at the other end of the chain.
The interest savers earn comes from the rate paid by borrowers, minus the fees charged by the P2P sites.
The model allows for 8% interest on savers' cash, but with the risk you may not get all your money back as you would in a standard savings account.
The three biggest firms, Ratesetter, Funding Circle and Zopa, are represented by the Peer-to-Peer Finance Association.
A spokesman for the trade body says: "We have always strongly believed introducing proportionate regulation is necessary to enable the sector to flourish."
The FCA will take over the Financial Services Authority's role in protecting consumers next year.