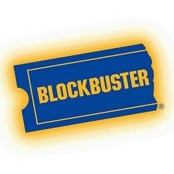 Movie and gaming rental firm Blockbuster is the latest high street giant to go into administration, it has been announced today.
The firm's stricken UK arm, which follows HMV in announcing its administration this week, has appointed Deloitte to take over its affairs this afternoon.
Below, we explain your rights if you're affected.
Q. Is the firm still trading?
Deloitte says in a statement: "The core of the business is still profitable and we will continue to trade as normal in both retail and rental whilst we seek a buyer for all or parts of the business as a going concern."
The company has 528 stores across the UK employing 4,190 staff. Deloitte says it will do its best to preserve jobs.
Q. Will gift cards be honoured?
The good news is yes, but we don't know how long for. Therefore, if you have one, it is best to redeem it as soon as possible.
To be safe, do so in-store, in case your online order does not arrive.
Q. I've got store credit. Is this still valid?
Again, it is for now, but don't waste any time spending it, in case that changes. Deloitte says in a statement: "During this time [while we seek a buyer] gift cards and credit acquired through Blockbuster's trade-in scheme will be honoured towards the purchase of goods."
Martin Lewis, MoneySavingExpert.com creator, says: "Unless you have a reason to hold onto them, the sensible thing if you are in credit or have vouchers is to redeem them immediately. It is far better to have a tangible product than a promise of one.
"The only negative is if there were a fire sale in future, and vouchers are accepted then, you may get better value then."
Q. Can I take items back?
While Blockbuster's main business is renting out films, games and DVDs, it also sells them, along with other items such as consoles.
The good news is the store's standard policy still stands for now.
This means you can return any item, no quibble, within 14 days if it's in its original packaging. If it's faulty, you have 30 days to return it.
In reality, your consumer rights do not give a time-limit on returns for faulty items, though this will be difficult to enforce given the administration.
That said, you are not entitled by right to return an item if you simply change your mind, so the 14-day no quibble guarantee is a boon.
However, if the store stops trading, this guarantee will go, so don't waste any time if you need to take something back.
Q. Will orders be delivered?
Deloitte says it's business as usual while the store is still trading.
Customers will receive their orders, or if there is a title which is no longer available, they will be able to use the credit against other items.
Q. Can I get a refund for faulty or undelivered items?
If something goes wrong, or Blockbuster changes its policy, under Section 75 of the Consumer Credit Act, card firms are jointly liable with a retailer if something goes wrong, if the item you bought cost over £100. But most of what Blockbuster sells costs less than that.
So if you paid by credit card for goods under £100, or any amount on a debit card, you may be able to claim via the Visa, Mastercard or American Express chargeback schemes.
This is an often little-known clause that allows you to claim within 120 days from your card provider. While this is in your contract with your card provider, it is not a legal right.
If you did buy something over £100 with a credit card, then you should be covered under Section 75 of the Consumer Credit Act, giving you a legal right to claim from your card company.
Q. What if I have Blockbuster goods I rented, such as films and games?
You should return these as normal, on time, to avoid fines. The firm is still trading, but regardless, these items do not belong to you.
Q. What happens to Blockbuster's loyalty scheme?
Blockbuster has a loyalty scheme called VIP Gamer where you earn points by spending, which you can redeem for rewards such as money off products.
You can no longer earn points, but while Blockbuster is still trading, you can spend them as normal.
Q. What happens to staff?
We don't know yet whether Blockbuster will exist in the coming months, so the future of its 4,190 employees is in the balance.
If a buyer is found, some stores could be saved.
If staff are made redundant, they have statutory rights to redundancy pay and cash for unused holidays — this is met by the Government if Blockbuster itself can't pay.

If your job is at risk, or you are made redundant, read our Redundancy Guide for your rights.
Additional reporting by Helen Knapman.