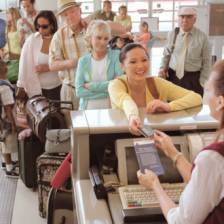 Waiting to buy travel insurance until you go on holiday could leave you hundreds of pounds out of pocket.
January is the busiest time of the year for arranging overseas travel, with approximately six million trips set to be booked this month, according to the Association of British Travel Agents.
But many people don't buy travel insurance when they book their holiday, leaving them at the hands of fate (see the Travel Insurance guide for the top deals).
Airlines going bust, bad weather, personal reasons and even rare events such as volcanic ash clouds can cause you to cancel, which could leave you with a big bill if services you have paid for, such as hotels or car hire, are non-refundable.
Why should I buy now?
Buying when you book means you would be covered if you need to cancel before the trip begins, subject to the standard terms of the policy.
If you wait until you're about to travel, you cannot claim for cancellation if the preceding problem happens when you have no cover in place.
Insurance only protects against unknown events. So say your airline goes bust meaning you cannot travel, and only then do you buy travel insurance. As you knew about the problem already, you wouldn't be able to claim for it.
What can go wrong?
As well as personal issues which could affect anyone, here are some of the major events in recent years that have seen hundreds of thousands of holidays cancelled:
In April 2010, an ash cloud from an Icelandic volcano brought air travel in western Europe to a standstill.
Also in 2010, British Airways passengers were faced with a strike by cabin crew.
In August 2011, tour operator Holidays 4 U added its name to a long list of travel firms that have gone bust. In that incident, 50,000 travellers were left without holidays.
Even this week, thousands of flights have been brought to a halt because of snow.
You will often get your money back for cancelled flights. But without insurance, you may not get a refund for subsequent losses, such as the cost of hotels or cars.
What am I covered for?
Insurance contracts vary from firm to firm, so don't assume you are always covered for cancellations.
Even if you are, the circumstances under which you can claim may also vary.