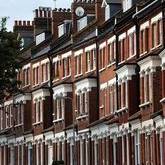 House prices rose by an average 1.3% in December but are unlikely to change much this year, mortgage lender Halifax says.
The bank reports an average house price of £163,845, with the quarterly figure up for the first time in seven months amid signs of a firming in the housing market towards the end of 2012.
There were six monthly rises and six decreases during 2012 as underlying prices remained little changed over the course of last year, the report adds.
Prices in the three months to December were 0.3% lower than in the last quarter of 2011, the smallest annual decline since May.
However, the outlook for the UK economy and house prices remains more unclear than usual, the report says. It says subdued economic growth, sustained high unemployment and pressures on household finances are all restricting housing demand.
Last week, Nationwide Building Society said the average price of a UK home fell by 0.1% during December, while house prices fell by 1% across the UK during 2012. It predicts prices will remain flat or edge lower still during 2013.
Halifax economist Martin Ellis says: "Overall, last year saw an even mix of monthly rises and falls as prices lacked any real direction. We expect continuing broad stability in house prices nationally in 2013."