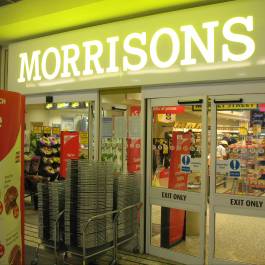 Morrisons plans to roll out its delivery service by the end of this year after signing a partnership with delivery firm Ocado.
The launch will see the supermarket chain, the last of the big four supermarket chains to enter the online world, use Ocado's recently opened distribution centre in Warwickshire for deliveries through a Morrisons-branded fleet (see our Supermarket Shopping guide to cut costs).
Morrisons' lack of a delivery service has seen it lag behind its rivals. In March it reported a 7% fall in annual profits.
But the 25-year deal, which involves Morrisons paying up to £170 million to Ocado to buy the site and equipment, is controversial because Ocado already delivers for Waitrose, which is reported to be examining the tie-up.
Waitrose boss Mark Price told the Sunday Telegraph last week he "would never knowingly sign a contract with Ocado that agreed to them working with another retail competitor".
Morrisons chief executive Dalton Phillips says; "From a standing start, Morrisons will be competing in the fast-growing online channel by the end of this year with a really compelling proposition.
"The customer gets our affordable fresh food delivered by Ocado's state-of-the-art distribution system."