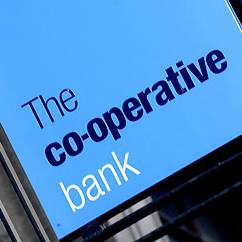 A rescue plan for the troubled Co-operative Bank has been revealed today as it tries to fill a £1.5 billion hole in its finances.

Any accounts held with the Co-op, or sister operations Smile and Britannia, will not be affected. In any case, they are protected under the Financial Services Compensation Scheme, which will guarantee your money is safe up to £85,000 across the three outfits. (Our Savings Safety guide explains how it works.)

No taxpayers' money will be involved in the plan — instead, bonds will be converted into shares, which will be traded on the London Stock Exchange, while the Co-op is also raising cash by selling its insurance business.

Co-operative Group chief executive Euan Sutherland told BBC Radio 4's Today programme the bank's long term plan is to focus on retail customers.

Sutherland added: "It's a very equitable solution and we believe that this will provide security, safety and stability for our customers and the bank going forward."

'Don't panic'

MoneySavingExpert.com head of editorial Dan Plant says: "If you've got cash in standard savings accounts, provided it doesn't exceed £85,000, don't panic – it's 100% safe.

"If your savings do top that and you want to be cautious, then stay under the protection limit for the time being."

The shortfall in the Co-op's finances was spotted by the new City watchdog, the Prudential Regulation Authority, which launched a review after the Bank of England said banks need to find another £25 billion to fill gaps in their balance sheets.

The PRA will give more details about how other banks and building societies are faring at a briefing on Thursday.

However, Lloyds Banking Group and Royal Bank of Scotland have already agreed with the PRA they will not need to issue new shares or securities.

Bad loans

The Co-op's troubles largely stem from bad commercial property loans, which it picked up in 2009 when it merged with Britannia Building Society.

Earlier this year credit rating agency Moody's downgraded the bank to "junk" status, forcing it to issue a statement that it did not need to be rescued by the taxpayer (see Co-op Bank: How safe is it? MSE News story.)

It also had to pull out of a scheme to buy over 600 bank branches from Lloyds, which are now being split off under the TSB name.

Today's move affects 5,000 investors who lent money to the Co-op through securities paying dividends of up to 13% a year. These will now be converted to shares.

At least £1 billion will be generated this year from the exchange offer, with the remaining £500 million to come during 2014.

Additional reporting by Michael Connolly.