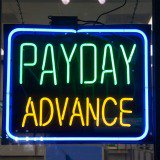 Text messages promoting a payday lender have been banned for suggesting loans are suitable for funding a social life.

The news comes weeks after the industry was branded "out of control" by Citizens Advice (see our Debt Problems guide for what to do if you're struggling.)

Examples of messages from FirstPayDayLoanUK included "Hi mate. I'm still out in town, just got £1,000 in my account from these guys" and "I'm still out in town, just got £850 in my account from these guys".

Another one read: "You have been pre-approved for up to £1,000 cash today. Apply now... and receive your cash within 15 minutes."

The Advertising Standards Authority (ASA) received 13 complaints that the texts were unsolicited, irresponsible for suggesting that a loan should be used to fund a social life, and familiar to the point that it was not clear that they were advertising messages.

It concluded the messages "implied that it was suitable to use a payday loan for the purpose of socialising" and "would be likely to be understood by recipients as personal messages".

First Financial Ltd, which trades as FirstPayDayLoanUK, said it was only responsible for setting up payday loan websites, which were then passed over to advertisers, and had no control over marketing.

Marketing firm Akklaim Telecoms did not respond to complaints or provide any evidence that recipients had given their explicit consent to receive the messages. The ASA said one of the people complaining about the texts was already registered with the Telephone Preference Service marketing opt-out system.

It ruled the advertising texts should not appear again in their current form, adding: "We told First Financial and Akklaim Telecoms to ensure text message ads were clearly identifiable as marketing communications and were only sent to those who had given explicit consent to receive them.

"We also told them to ensure ads did not imply that payday loans were suitable for spending on a social life."

Industry condemned

The payday loan industry was condemned in a report from Citizens Advice last month (see Payday lenders 'out of control' MSE News story), while StepChange Debt Charity said the number of people going to it for advice on the loans doubled last year (see Crisis calls double MSE News story).