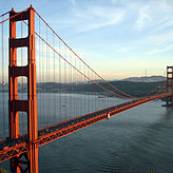 Travellers to the US are being warned not to fall for copycat Esta sites after one of Boris Johnson's senior aides paid more than five times the normal price for one to accompany the London mayor on a visit to San Francisco.
All visitors to the US must fill out an Electronic System for Travel Authorisation (Esta) form online before they arrive in the country (see our Esta guide).
There is only one official website for an Esta, which charges $14 (£9) per application.
But Johnson's chief of staff, Sir Edward Lister, found himself slapped with a $74 (£47.40) bill after his personal assistant used an unofficial site to get it.
The Esta was used by Sir Edward to accompany the mayor on a trip to the Californian city famous for the Golden Gate Bridge (pictured right). The visit was for "negotiations for a major investment in London".
The mistake reveals just how simple it can be to fall for one of the many copycat websites offering the scheme – even for leading politicians.
Get the right Esta site
Everyone from the UK going to the USA by air or sea, even those just passing through, must fill out the form in advance or they'll be turned back.
Sir Edward's office used a California-based website promising "professional Esta management services".
But all travellers need to do is visit the official US government Esta website at https://esta.cbp.dhs.gov and fill out the form. If your flight or first night's accommodation changes, you can return there to change the details yourself – there's no need to pay more for a so-called "specialist" website.
It's not just unofficial Esta sites which charge well over the odds for simple services which are sometimes free.
Travellers looking for European Health Insurance Cards are targeted, as well as motorists wanting to renew driving licences.
Unofficial sites also charge well over the odds to pay London's congestion charge.
MoneySavingExpert.com news editor Guy Anker says: "Sadly, these copycat sites creep up everywhere, and manage to fool even major politicians' aides.
"The message to take from this is to double-check you only visit genuine websites when getting an Esta, EHIC or any official documentation."
'Clerical error'
A Greater London Authority spokesperson said: "Unfortunately, due to the clerical error of a staff member using the wrong website, the price paid for the Esta was more than the official fee.
"Now that it has been highlighted, Sir Edward will refund the difference to ensure no additional cost to the taxpayer."