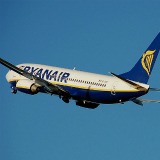 No-frills airline Ryanair says it will cut fares as well as some flights this winter to help keep its profits up.
The Dublin-based carrier says increased competition and Europe's continued economic problems were having an impact on fares and the amount of money it makes per passenger (see our Cheap Flights guide and our FlightChecker tool for the cheapest flights).
It aims to respond by running slightly fewer flights this winter, along with introducing lower fares and "aggressive" seat promotions in markets including the UK.
The reduction in scheduled flights will shave 500,000 seats from its annual traffic forecast, down to 81 million.
Ryanair says its strategy will also cut its profits to between £483 million and £508 million.
A month ago, chief executive Michael O'Leary said July's heatwave in northern Europe had contributed to a slump in people choosing to holiday abroad this summer.