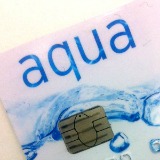 Aqua Cashback Reward credit card customers should consider ditching it and switching elsewhere as the provider is slashing the amount you can earn in cashback from 3% to 0.5%.
The firm has begun writing to customers to tell them their cards will be withdrawn on 22 January.
The Aqua Cashback Reward card, which we featured in the weekly email last year, lets users earn 3% cashback on their spending, up to a maximum of £100 per year. It closed to new applicants in April.
If you've got the 3% card, try to earn as much cashback as you can now, especially as it's likely you'll be spending more in the run-up to Christmas, before considering whether to ditch and switch to a credit card which offers more.
Aqua says you'll be able to earn 3% cashback until 22 January when your account will close. At this point you'll have to repay the balance, with remaining cashback credited around two weeks after the deal ends.
The move by Aqua has drawn criticism from users. MoneySavingExpert.com forum user jo-bo wrote: "Had the letter and will close account. Very slow to update account if paying balance at bank, low limit and not worth the hassle for 0.5%."
Twitter user @pauloreillyuk added: "Aqua withdrawing 3% cashback reward card for all customers. New card worth just 0.5% reward. #ditchandswitch."
Can I get a better deal elsewhere?
From 22 January, Aqua will offer a new card, which only offers 0.5% cashback on spending. Again, this is up to a maximum of £100 each year. As with the old 3% card, there are no foreign currency exchange fees making it free to use abroad.
If you want to get it, existing customers have to sign and return a new credit agreement by 31 December. As long as your account is in good order – with payments up to date and no arrears – you will be transferred to the new card.
But there are credit cards on the market which let you earn much more.
The American Express Platinum Cashback Everyday* card, for example, pays new cardholders a 5% introductory cashback rate for the first three months on up to £2,000 spending, while the Luma cashback credit card pays 4% on petrol and supermarket spends up to £9 a month (see our Cashback Credit Cards guide for the top deals).
* Using these links helps the site stay free to use, as they're 'affiliated links' which invisibly take you usually via affiliate linkage or commercial money sites, which then pay this site. You shouldn't notice any difference, the links don't impact the product at all and the editorial line (the things we write) is NEVER impacted by the revenue. If it isn't possible to get an affiliate link for the best product, it is still recommended and still included. The following identical unaffiliated American Express link is provided for the sake of transparency. Click on the following link for more details on how this site's financed.